Cycle Show 2008 at Earls Court

This weekend was one of ups and downs. Definitely on the upside was our annual trek to Earls Court for the Cycle Show 2008, of which more later. Balancing that in a manner which shows that what is given with one hand is swiftly taken back by the other I arrived home parched from a long day admiring bicycles and promptly slaked my thirst with a bottle or more of wine over dinner with friends.
Big mistake. That was my Saturday written off and the chance to get out on one of the best Sundays of the year for some actual mountain bike riding. There's a lesson there, called 'moderation' that I'm stubbornly refusing to learn.
But back to the Cycle Show. I thought I'd give a brief summary of some of the highlights that caught our eyes and expand on them a bit over the course of the week. First up, Charge Bikes had their Plug Grinder, which I found was whispering sweet but naughty 'Buy me' thoughts in my ear. And over the course of the weekend has continued to do so. Well, how would singlespeed, 50's olive green paintwork, 700c wheels, full mudguards, flat bars and a £460 price tag grab you if you've been toying with a do-it-all hack bike?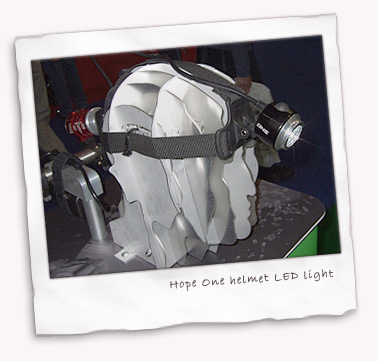 Next up, Hope have taken the best part of their Vision 1 LED light (i.e. the LED) and lopped off the bulky battery compartment to leave a neat single LED, 240 lumen light that can be fixed to bars, helmet or head to give a properly versatile light. It's £100 and gives Colin's Exposure Joystick MaXx LED killer light a run for it's money, powered by a remote 4 x AA battery pack that can be stuffed and restocked with rechargeable batteries as needed. Neat and good value I reckon.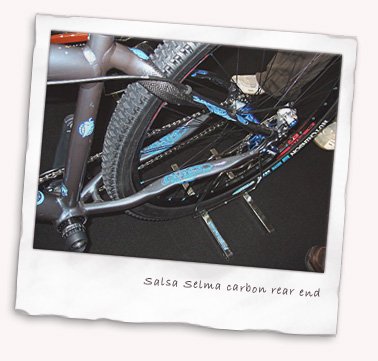 Moving on, it's time to admit that 29ers don't look weird anymore, at least not to my eyes. The attention of my eyes is easily caught anyway but I think I had good excuse on the Salsa Cycles stand with their Big Mama 4″ full sus 29er and their Selma singlespeed 29er with its Scandium alloy/carbon fibre mix.
Either bike would be gratefully received by me if the company needs some extended UK testing although at present the mud clearance on the prototype Selma is non-existent. Don't worry, they know so no cheap shots eh?
Flattened chain and seat stays on both bikes introduce a bit of back end flex to help the ride and the blue anodised Hope components on the Selma was nothing if not a head turner. Both serious contenders for 'bike I would most want to buy' in my view.
Closer to home, a real find although it seems I should perhaps pay more attention to postings on the Singletrack forum. But for me at least, coming across the Singular Cycles stand was a bit of a revelation.
They have a focus on 29ers (but not exclusively) with lovely 50's retro looks but modern as you like geometry and I'm thinking most likely handling too. Oh and mech hangers and EBB versatility too. Their prototype titanium Pegasus singlespeed frame with carbon (On-one) fork and bars was both very pretty and astonishingly light and looks set to be a popular cult classic. Hearing that Dorking's Head for the Hills were stockists had me thinking about getting hold of a steel framed Swift for a demo though.
So, there's a few of the things that turned our heads this year. One thing I'd like to say is how friendly just about anybody we spoke to was this year, there was a great feel to the show compared to previous years and people really did seem to love their products and want to talk about them.
Look out for more later in the week or just sate your curiosity with our Cycle Show 2008 photos on Flickr.