Holmbury Iron Age hill fort – a timely reminder of responsibilities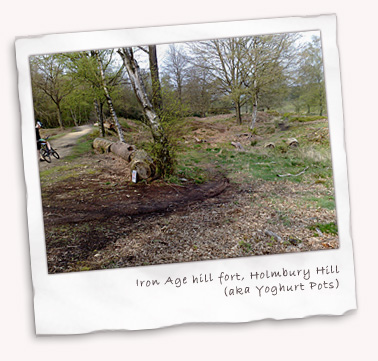 The Surrey Hills is an incredibly popular location for mountain biking, attracting people from all across London and the South East. With good reason too, there are miles and miles of top quality trails across Leith, Pitch and Holmbury Hills.
Many of these developed as animal tracks which have gradually come to serve the purposes of mountain bikers in recent years but many have also been lovingly hand built by local riders from Nirvana Cycles in Westcott and the Redlands Trails organisation.
Most of us haven't given this a moments thought, coming to see the Surrey Hills as our playground and the star trails such as Barry Knows Best, Yoghurt Pots/Park Life, Telegraph Road and many other oddly named trails as permanent features of the landscape. But they're not.
Firstly, many non-bikers use the hills for their own reasons, including families, walkers and horse riders. With such popularity comes responsibilities on the part of the organisations that run the place, such as Hurtwood Control and the Forestry Commission – responsibilities to the land users but also to the landscape itself.
These organisations are legally required to protect users (from themselves and others) and to protect key features that make the area unique in South East England. One of these is the Iron Age Hill Fort on Holmbury. The what? you may well ask. That's right, an Iron Age Hill Fort, part of the summit area of the hill. Obviously its in a fragile state after all these years but you can still see the main parts of it if you look closely.
The problem is, it has until a year or so ago been used as part of Park Life, that lovely (oh so lovely), massive sweeping roller-coaster run-in to Yoghurt Pots. Great fun but the problem is English Heritage have made it very clear to Hurtwood Control that it needs to be protected from damage – and damage we mountain bikers were most certainly causing.
Which is a round about way of explaining why a new route has been created to take riders off the roller-coaster, along with attempts to block the entrance to that part of the trail entirely. The new route is a pretty good effort and is now the only sanctioned route down Yoghurt Pots.
As you can see from Ben's recent post on the Redlands site, it looks as though riders are still cutting through via the old route. This is a big problem since if riders can't be prevented from riding it and causing damage English Heritage will take steps not only to stop it themselves but also prevent riding in the immediate area, full stop.
As a regular rider on Holmbury, this is a simple heads up to support both Redlands and Hurtwood Control's polite requests for riders to 'play the game' and stop abusing the privileges they have riding the Surrey Hills. At the same time, it's a grateful acknowledgement of the work they put in on a continuing basis to keep our Surrey trails at the top of the pack.
Thanks for reading!