Just in: Uberbike Components – brake pads, ceramic bottom bracket and more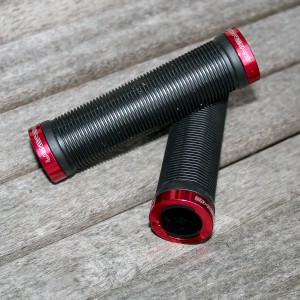 A couple of weeks ago, Andy at Uberbike Components contacted me, asking if I'd like to try some of their gear. 'Yes' was the short answer, and here's the result.
Uberbike Components are based in Rotherham and sell a wide range of cycling products, most notably small consumable stuff which we always need, but more recently expanding into supplying floating brake rotors, chainsets and bashrings. Andy sent me the kind of stuff that is their mainstay, and there was lot packed into the small package which promptly arrived the next day.
First off, lock-on handlebar grips. I had a lot of fun trawling through Uberbike's website and I quite fancied some new handlebar grips. I've got the Uberbike Mushroom grips with red anodised lock-rings and will be trying them on my Five as a replacement for the very well worn ODI cross-trainer grips. Like the Cross Trainers they have a nice amount of subtle squidge to them which I reckon should work well.
Also in the goody bag was a set of Skinny Uberbike logo'd lock-on grips, this time with green anodised lock-rings. You can mix and match from a range of colours but given these are green (my current fave ano colour), I've passed them to Dave to go on his Spearfish.
We also have four sets of disc brake pads for trial, these all being for Avid Elixirs but other brands are covered. Uberbike push these out at very low prices, ranging from just £5.49 with free UK delivery. The blue ones here are semi-metallic while the silver backed ones are the Ultralight alloy-backed versions. They really are noticeably lighter for the weight weeneies but use the same semi-metallic compound as the blue ones.
The other two pads sets you see here are the Sintered and the orange backed Kevlar versions. The Kevlar ones are claimed to mix longevity with organic brake pad feel, so I'll probably put these on the front brake of one of my bikes.
Another item which turned up was this stealth looking bottom bracket, which on closer inspection is running with ceramic bearings. I've never tried a ceramic bearing on a BB before due to cost, but their benefits are supposed to be longer life and smoother running, not something you'd ever turn down really!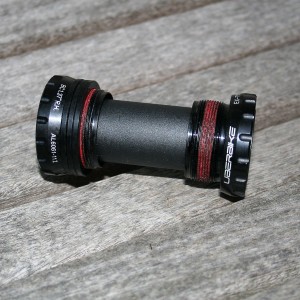 I've also scored a selection of titanium small parts. I have here an assortment of Avid Elixir clamp bolts, as well as green anodised rotor bolts which will be appearing on my black and gold 29er singlespeed. If things carry on like this I'm thinking it will be taking on a more a rasta themed colorway (sic) in the near future.
Not forgetting a nice set of titanium headset spacers in 15mm, 10mm and 5mm increments. Bling.
Finally, for the roadies out there I have a couple of sets of Ultralight carbon fibre backed road brake pads with triple compound rubber, suitable for Shimano brakes.
I'm looking forward to trying these out and will report back on how each of these components perform over the coming weeks.