K-Edge mounts for GoPro and Contour cameras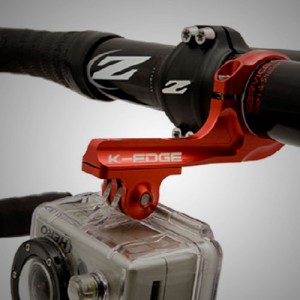 This week both Bikeradar and Bikemagic have reported that K-Edge products have signed a distribution deal with Madison to sell their Go Big camera mounts in the UK. Given a number of our riders like to shoot video they might be worth a look.
I haven't heard of K-Edge before – or at least I didn't think I had although I recognise some of the Chain Catchers on their website. The camera mounts are designed to fit the GoPro waterproof case and allow you to mount the camera to your handlebars or, via a different mount, the rear of your saddle. What caught my eye is they are made from machined aluminium and anodised in red, black or gunmetal and as such are a step above the plethora of alternative mounts available on the market which are generally made from plastic of one kind or another. These cheaper mounts tend to wobble or just plain break which tends to miss the point of a decent mount in the first place.
Ah yes, cheap mounts. Here's the catch – the K-Edge mounts are not cheap (at around £35 each as far as I can tell). That's a lot of dosh but they do come with a lifetime guarantee which helps sugar the pill somewhat. And you shuld be able to expect some rock solid footage from the bling looking mounts.
As with all these things, you pays your money and you takes your choice. Riders with the Contour HD should also keep a look out on K-Edge's website as they have plans for some Contour specific mounts too.