KCNC roller bearing bottom bracket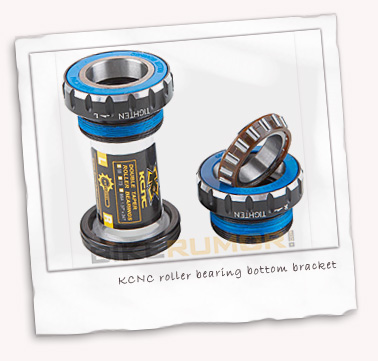 Now here's an interesting development. I've just found this article over on BkeRumor about a new bottom bracket from KCNC (of anodised jockey-wheel fame) which looks like offering a useful increase in bottom bracket life.
Basically, the usual outboard cartridge bearings are replaced with roller bearings, which I believe spread the load over a wider area ensuring they run more accurately and more smoothly for longer.
Dave has recently perfected the process of replacing standard cartridge bearings in outboard bottom brackets, giving useful life increases for anything from Superstars cheap bottom brackets upwards at a cost of a few pounds. If you're not mechanically minded though these look to be a sound purchase at around £39 or so.
At least you won't have to trouble yourself or the bike shop mechanic any sooner than you need to. And knowing KCNC, I'd expect a range of colours too!