Hot on the heels of Marin 2010 and Specialized 2010 new bike information comes Lapierre. This isn't a brand I've followed much over the years but the French firm caught my eye recently when AndyLeeds started riding with us on his 2009 Zesty.
First off, his bike is immaculately pimped and looking at the 2010 versions it seems Lapierre know a thing or two about coordinating their anodised components. The Zesty in the pic has a full SRAM X-0 groupset in red complimented by red Mavic hubs, red pivot caps and red saddle.
It all sounds a bit much – there's even a pair of red spokes on the Mavic Crossmax wheelset but in the flesh the 2009 version looked fantastic and I see no reason why the 2010 will be any different. The detailing is superb, with very nice bolt on cable guides (did Brant get his Ragley idea here?) and even a carbon deflector round the rear mech.
Mind you, this is the top end 914 machine, 140mm travel, full carbon, slightly shortened top tube over 2009 (-5mm) and all, so it should look the part. Oh, and 24.5lbs. Nice.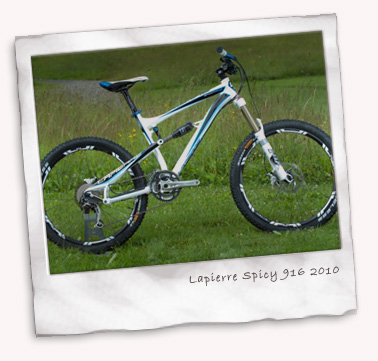 Also looking tasty for next year is the Lapierre Spicy 916 in white and blue. This one's 160mm travel and on the top end model, with a carbon swingarm at the rear it comes in at just 27lbs. Should be more than enough capability for the Surrey Hills!
One a slightly separate note it is starting to depress me that the gap between my riding skills and the capabilities of modern mountain bikes continues to grow. They just seem to be getting superlight and super long travel at the same time as manufacturers take advantage of carbon technology. I'm still mincing on my Orange Five which is not something I thought I'd ever say. Maybe I'm being too hard on myself.
If I was shopping though I reckon the Lapierre Zesty would be on my list even if I had to consciously resist the temptation to think of 'ladies parts' whenever I hear the name.
You can read more, including information about Lapierre's race oriented bikes and their more downhill and freeride bikes at Singletrack and Pinkbike. I'll leave you to work out which site favours which genre although there's information about all the bikes on both sites…