Marzocchi 44 Ti, 55 Ti and 66 Ti 2010 forks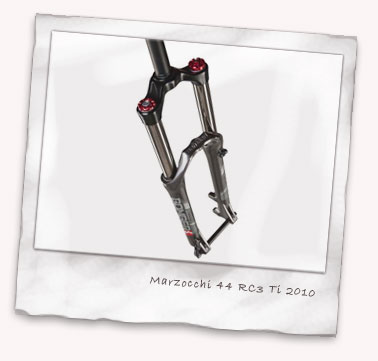 You have to admit Marzocchi are trying. My first reaction on seeing their 2010 fork line-up, and some of the prices quoted, was to dismiss them out of hand. Despite running a 'classic' Marzocchi Marathon coil fork of 2003 which is plush but long in need of a service, it's been a long time since I'd consider putting a Marzocchi fork on one of my bikes.
To general consensus, Marzocchi have lost their way in recent years. For 2010 they admit as much, saying they will be concentrating on making plush, reliable forks based around open bath technology rather than wrestling with the complexities of air compression and damping technologies which have been a reliability bugbear for some time.
So, the 2010 line-up features relatively simple forks. Except, when you look closer, they're not bad forks, on paper at least. Of most interest I guess is the Marzocchi 44 RC3 Ti fork which weighs in at 4.1lbs (1850g). It features coil suspension using titanium springs plus adjustable rebound and high and low speed compression damping and an air chamber for pre-load adjustment. At £680, it's not ridiculously priced for a 140mm fork once the Law of Discounting takes effect.
Slightly further down the range is the Micro Ti which is internally adjustable from 100mm to 140mm, comes with a QR15 axle (as does the RC3) and weighs in under 4lbs (1799g) for £570. Again, not a bad 'list' price for a 140mm sub-4lb fork. So, I'm keeping an open mind.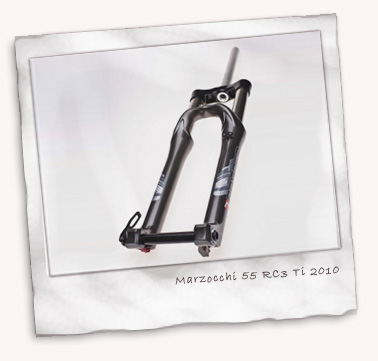 Another fork which seems to offer a lot is the 55 RC3 Ti, basically a similar concept to the 44 using open bath lubrication, titanium springs, a QR20 axle (good move!), but with 160mm of travel. I'm a bit suspicious of the quoted weight of—yet again—4.1lbs (1850g) but the biggest issue is the price – £900!! Ouch! But if it's true there's a lightweight, reliable, coil fork with 160mm of travel then I can see many people fancying one.
Time will tell. The jury is definitely out due to previous reliability concerns but the forks look good and sound more competitive the more you look at them. And to be honest, the idea of Marzocchi once again providing proper competition to Rock Shox and Fox is very appealing. More information available: