More otter juice from Sea Otter 2009

Picture: Dan Barham, Bikemagic
I'm still keeping my eyes open for news from Sea Otter. As it's a SRAM sponsored event there's a lot of stuff coming through from them, much of it highlighted by a heavy emphasis on colours as previously mentioned. The anodising bods have been working overtime and have produced SRAM X0 kit in a wide range of colours, including pink (which shows I'm on the money with my singlespeed conversion, of which more soon).
Originally I thought the orange X0 stuff would look mighty fine on my Five but the more I see it, the more I like red. With Race Face also going spangly, I reckon a red X0, red cassette (which I already have) and red crank arms would make a great look. It's a shame I haven't got the red Hope BB as DaveP has to finish it all off. Or maybe, as with Bobby in the shower I'll wake up and find this early 90's throwback look is just one bad dream? It's all a bit Austin Powers isn't it but at least it's better than sodding black and grey. On the other hand, I remember thinking stealth black was the final word on cool… that's marketing for you.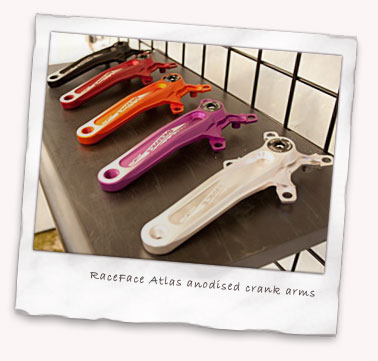 Picture: Pinkbike
Aside from all that retro the big news seems to be that carbon is starting to finally make an impact on MTB wheels. I'm not sure I could feel comfortable trusting a carbon wheel off-road which is a bit irrational I know but the latest crop of wheels offers great strength and light weight according to their manufacturer claims.
DT Swiss have their lightweight XC1350 carbon rims and some great looking 28mm carbon freeride wheels on their EXC1550 complete with white bladed spokes and bolt through hubs. Me wants, but me is not going to get! Others expanding their carbon wheel ranges include Easton, Ritchey and Syncros but deep pockets are needed.
Picture: Singletrackworld Magazine
Going back to colours, white is also gaining popularity from what I can make out, with Syncros leading the way with their wet look finish. I fancy some white handlebars for my singlespeed and with Avid now offering the Elixir 5 in white I'd be pretty made up to see those on there, especially with a set of white bolt through Rebas. Umm, I have white(ish) grips if that's a start?!