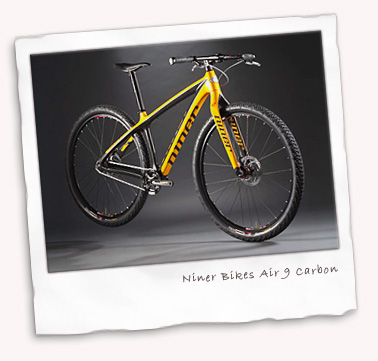 Is it just me or does this make anyone else feel all moist as well? For some reason I just really fancy one!
According to Bikeradar, Niner Bikes have just announced prices of their new Air 9 Carbon race bike. Aside from embarrassing pant-wetting, the price will bring water to the eyes as you'll need to stump up $1899 if you want to throw your leg over one of these. And you'll still have to wait until late 2010 too.
What you get is a 29er hardtail with a tapered headtube, eccentric bottom bracket with over-sized cups and beautifully integrated brake caliper mounts and hose guides. There's also internal cable routing if you choose to run gears and I love the look of that carbon fork too.
Finally I've found a 29er that I can lust after – I bet that's one very fast machine for hammering out the miles. As a bonus, look at the gorgeous colour as well – Tang-tastic!
My experiences riding Dave's Intense Spider 29er recently have convinced me that a 29er gives a different perspective on familiar trails, great balance in technical stuff and plenty of XC speed primarily. If you don't expect them to handle like a sharp 26er on the singletrack you won't be disappointed.