Oil and Gas exploration on Leith Hill?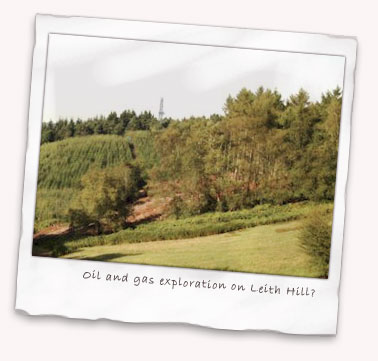 I realise that this might be old hat to many of our readers but for me it's come as quite a surprise. Europa Oil & Gas are currently seeking planning permission (as at 1 March 2009) to prospect for hydrocarbons—that's the black stuff to you and me—in Waterden Wood which is near Coldharbour and Leith Hill.
Obviously should they find oil and/or gas in sufficient commercial quantities they are then in a strong position to apply for permission to extract it.
Not only is this a gross intrusion into the area for residents who will have to put up with significant HGV traffic and road closures but there's the wider impact too for all us mountain bikers who regularly enjoy the area, which offers some of the best riding in the south east.
The proposal will feature 24 hour lighting and provision for oil and gas flaring plus plenty of space for accommodating plant workers and such like and a flashing aircraft warning light on the rig. Who fancies night riding round that particular neck of the woods?
Initially for three years, this could easily turn into a longer term situation with no guarantee that remedial work to return the land to forest will be forthcoming. In any case, it puts the area out of riding use for years and since the area of extraction would cover a much wider area than that of exploration it's possible that all Leith Hill users could suffer from the impact to a degree, in what is an Area of Outstanding Natural Beauty.
Toby from mtbsurreyhills, an ex-Coldharbour resident (and still local) tipped me off to the plan which I'm objecting to; we're lucky to have the Surrey Hills on our doorstep and are a riding mecca for many this side of London and beyond so I feel it's worth protecting. If you happen to agree, visit thevirtualvillage.com for more information and details of how to effectively register your protest.