Phil Wood OBB bottom bracket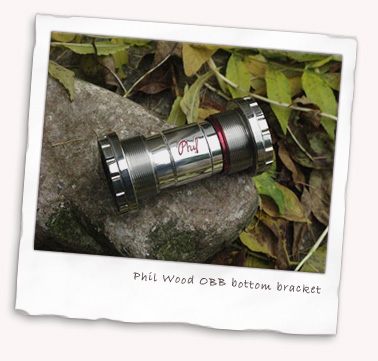 Occasionally a component comes along which offers ultimate bling points but also the possibility of a real improvement in your riding enjoyment. The Phil Wood Outboard Bottom Bracket (OBB) appears to be just such a component.
Now, I'm not one for bling stuff myself as many of you know and would never put a component on one of my bikes just because, say, it was pink. No, I'm a strictly functional kind of guy who values performance and value for money above all else. As you know.
Well, maybe not. But in this instance I reckon I could make a solid ownership case just based on the fact the new Phil Wood bottom bracket with outboard bearings comes in polished stainless steel and has his legendary name inscribed on the spacer where it will never been seen! But you'll know it's there.
All that aside though, at £85 this competes head on with Hope and Chris King offerings albeit without the wide colour choice they have. But what it might well lack in visual variation it makes up for with special waterproof grease and bearing seals that are used on underwater pumps. Various other steps, described in more detail on Bikemagic, ensure that the bearings in this unit promise to be unusually long lived. It's hoped.
This is going on my shopping list next time I need a bottom bracket. I have a pink Superstar £20 job on my singlespeed (review soon) but run a Hope steel bearing bottom bracket on my Five and really feel it's worth the extra expense. If you have found bottom brackets keep dying on you, maybe it's time to consider a proper upgrade?