See that? That's a Ragley Blue Pig that is, from Tweakbikes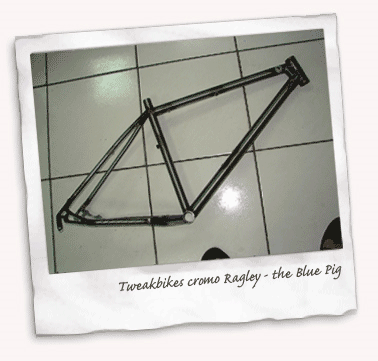 Since Shedfire/Tweakbikes/Brant announced their new Ragley Ti frame plenty of people have been clamouring for a similar machine at the more 'affordable' end of the market. Pretty good considering no-one's ridden the Ragley beyond the dev team and a select few media peeps but such is the reputation that On-one have built up over the years people just assume that Brant's new project will be more of the same.
Tweak don't appear to have rested on their laurels and in this world of rapid prototyping and development that's just what they have been doing. The result you see here is the freshly welded prototype Blue Pig which is the 4130 cromo version of the Ragley, still sporting the unusual chainstay arrangement but with an additional strengthening block behind the the head tube.
When I said more of the same just now, that's an understatement looking at the angles on the head tube. Slacker than a teenage mum's knicker elastic I'd say but considering the bike is named after a local downhill (local to Brant), that's no surprise. As to how it rides and handles, it's too early to say – that's the point of a prototype after all but at a price of around £250 it looks promising.
There's regular updates on the Shedfire site, including more pictures of the Ragley Blue Pig prototype.