Shedfire Ragley meets the media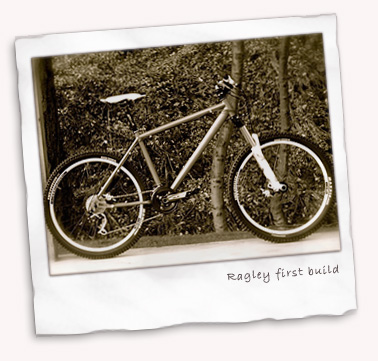 Earlier this month we picked up on the new Ragley titanium frame from Shedfire as Brant released the first pictures to a more than interested media. Let's just say that many people, particularly in the UK are following what Shedfire does with more than a passing interest.
At the time, I don't think we were alone in thinking that potentially this was one hell of a nice bike – with the caveat that no price has yet been announced. But the fact that this is the first frame from Brant since On-one and the knowledge of how savvy he is with marketing his efforts means he has surely been keen to start anew with a knockout bike. It's fair to say that people expect him to have been 'keeping his powder dry' with this frame… hence the interest.
Earlier this week I dropped by the Shedfire website which is now sporting a much more attractive set of clothes than the glorified Twitter feed it started out with. Not only that, but there's a couple of useful pictures of the Ragley which show it in more detail – first the odd looking driveside chainstay/bridge arrangement in close up which must have had more than one person wonder if it was laterally stiff, yet vertically compliant (hat tip, the NYBikeSnob); then the frame built up and showing off its slack angles, big tyre capability and fat downtube. Tasty stuff.
Today sees another step in accommodating the media, with both WMB/MBUK and Singletrack getting their own unique opportunities to get a first sniff of the bike.
I already like this bike. But I don't know why. It looks great, there's some interesting design features and the craftsmanship can only be top drawer. But I don't know what it will cost, I don't know how a steel or ally version might translate and there's not even any graphics on the bike (yet!).
It's a clever thing marketing isn't it! But so far, it seems to be working.