Shimano 2011 AM45 ride shoes – love or loathe?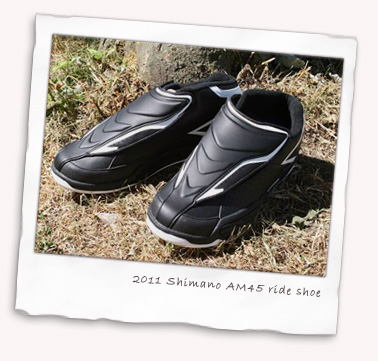 For some time I've had a hankering for a more robust shoe for the winter months. Lee, Colin, the D'Andyman (and possibly DaveW) all run the Shimano MP66 and I've wavered for a while over getting some. What seals it for me, beyond the practical considerations, is that Colin and Andy's come in white and I'm suffering shoe envy!
Now the cat has been cast among the pigeons with these new shoes set for an Autumn release according to Bikeradar. You're looking at the AM45 ride shoe which features skate-style looks and SPD compatibility but there's also an AM41 version for our bike park brothers who have no need for such things as clipless pedals. Both look very similar.
The styling is slightly updated over the MP66, a bit understated for me (if you're going to wear big shoes, make them bright!). The heel area is a semi-high affair to better protect your ankles and as with the older models (which continue on sale) you get a large velcro flap which keeps the dirt out (mainly) and your laces tidy and unsnagged. The benefit of such a closed design is that your feet tend to stay warmer, so they're great for winter.
I quite like them but would prefer them reversed so they were mainly white. I couldn't tell you if they are better than the MP66 so time will tell if you see me in these or if I mince out in a white pair of MP66s to keep Colin company. I like the irony of wearing white shoes in muddy conditions!
What do others think of their looks?