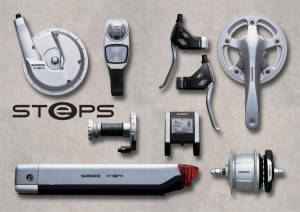 Continuing our informal series on e-bikes (which all started with a demo of battery powered mountain bikes with Cycling Made Easy), it seems Shimano have decided to make a push into a market which has grown significantly over the past few years and has real potential for more as the technology improves. The European e-bike market.
In a way, it makes perfect sense for Shimano to build on their experience of electronic drivetrains (Di2), which are now commonplace on the World Tour and top end road bikes. There's even a Di2 compatible Nexus hub which opens up all sorts of intriguing possibilities for low maintenance off road adventures.
Bolting a battery and drive unit onto that lot promises both convenience and reliability as the Di2 stuff is designed to be pretty much plug and play and the electronic shifting has been well proven in top flight sport. This should be helped with a specially treated Sil-Tec chain which promises greater durability than normal, although I can't quite work that feature out as the drive unit seems to be built into the front hub! So no excessive strain on the chain anyway…
The Shimano system, dubbed STePS or Shimano Total electric Power System, is touted for 2014 and offers up to 120km between charges. It's a pedelec system which means it provides assistance to your own efforts, up to a speed of 25kph (or roughly 15.5mph), which is plenty fast. Above that for any sustained time on an e-bike and chances are you'll be pointing downhill with gravity lending a big helping hand. It all sounds like an ideal low-fuss way of getting to and from work or around town, and it's those kind of smart, stylish town bikes where I think a lot of e-bike investment is going to be focussed.
If you're so minded you can read the Shimano STePS press release on their website.
Interesting times it seems…