Thomson show dropper seatpost at Eurobike
I'm probably one of the few riders in our group not to ride with a dropper post of some form or another, or at least be considering the idea. Not necessarily because I can't see the benefits, I can; it's just the problems are not easy to circumvent.
The great looking Thomson dropper seen at Eurobike is unlikely to change that for me either, which is a pity as it's going to give the Rock Shox Reverb a run for it's money.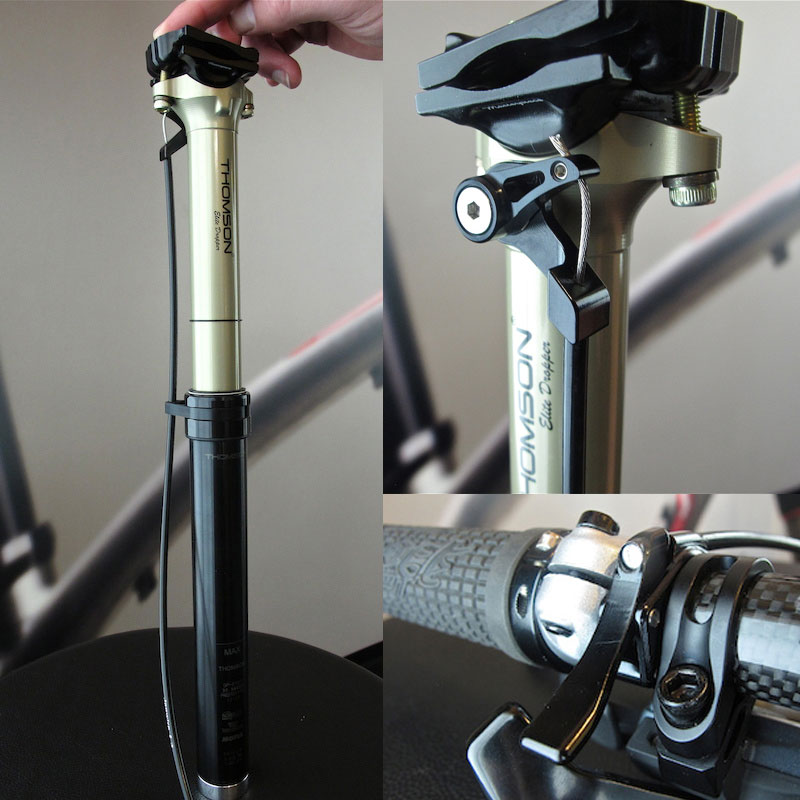 Thomson dropper post pics from Pinkbike
So what's my problem? Basically, my Orange Five is now so old skool that it has a 27.2mm seattube so not a lot of quality droppers fit. Added to which, for me there's a definite weight penalty (at least 500g) which I just can't ignore. If I had a modern, lighter frame with a bigger seat tube then perhaps I'd be more keen but for now I'm just an interested observer.
If I were to go for a dropper post though I reckon this Thomson prototype would be on the list. I run Thomson posts on all my main bikes and have done for a long time now on the basis that they have never let me down. I'm pretty confident in Thomson quality so if they say their dropper is up to scratch I'd believe them.
This prototype you see here has a special profiled section on the lower part of the stanchion which fits a similar reverse profile in the outer tube to avoid the notorious side to side wagging that droppers have a reputation for.
There's also clever system that keeps lubrication entirely separate from the up and down mechanism of the post.
My only niggle is one that many will have spotted – the remote is cable operated and sits on the upper, movable part of the post which means five inches of cable flappage when the post is fully lowered, something that many people find quite irritating on existing posts. The post, despite its refinements, still manages to be 550g (with the remote switch) too so we're talking about a well-executed, potentially reliable but not ground-breaking post here.
Which is probably how Thomson would prefer things anyway. It's just a shame no-one yet does a carbon dropper…
More information on the Thomson dropper post can be found on Pinkbike and indeed, on the Thomson website itself.