Thomson try out colour (shock!)
There are two pieces of kit which are pretty much defacto choices for the discerning mountain bike rider. Even in the less rarefied atmosphere of Mole HQ, if it comes to spec'ing a seat post and stem chances are the Thomson models will be at the top of the list.
I was convinced of their quality early in my mountain biking career when an 18st mate (DevonMole) gave the seat post a thorough testing in the Alps on his Inbred hardtail. I figured if he couldn't break them…
The only downside til now has been that the Thomson kit only comes in black or silver. Understated they may be but it's not obvious where your money is going (unless you look at the end of the seat post and realise that the round external circumference hides an ovalised interior). Besides, we all like to colour match stuff in this retro-ironic age as Hope have proved time and again.
So Thomson have been playing around with different finishes (as reported by BikeRadar recently) and have come up with what is called a Permadized finish – essentially a form of anodising that works from a paper transfer so you can create unusual designs. It's claimed to be as durable as anodising but offers more than one colour – I'm quite taken by the US flag on the stem pic but would prefer them to come up with a tattoo style circle of mole prints of course. But that's not going to happen is it?
More unusual news from this most conservative of brands comes in the form of a new quick release mechanism for a seat collar.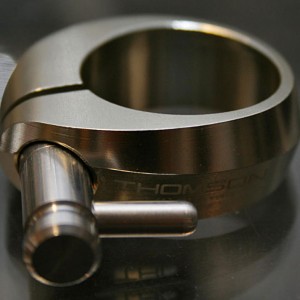 Frankly, I reckon you have to go a long way to beat the tactile performance of a Salsa flip off collar in this regard but Thomson are aiming for something much more streamlined as a way of saving us baggy short wearers from ourselves. We've all experienced the disappointment and fear of snagging our shorts at inopportune moments haven't we? It cost me a pair of shorts last year.
It's good to know Thomson aren't sitting on their laurels isn't it?