So, as an interested party in the 'bike versus all other road users' battle, what steps can you take to protect yourself out there?
There's a few obvious ones, such as better road awareness, high viz clothing and so on. And then there's the not so obvious ones too. But what you really want is something to let people know you're there the instant you sense their concentration wandering.
Something versatile enough to work not only in the urban landscape but also to settle once and for all the common complaint of the country rambler about the lack of a bell on your bike, as you surprise them on a blind singletrack corner at 20mph.
What you want, is a Thunder Horn.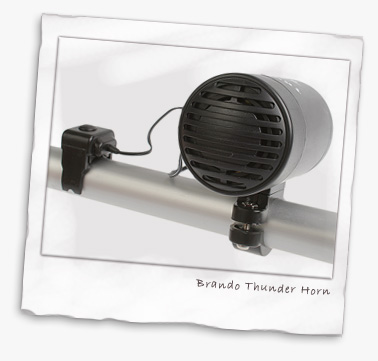 Putting out 115db, this is one loud horn. So loud in fact that the manufacturer encourages you not to use it within 18 inches of someone's ears to avoid damage. So loud that it equates (probably) to the sound of Concorde taking off. So loud that people pull over to the kerb and do that funny slowing down, random weaving thing thinking the emergency services are behind them – and that's just pedestrians (OK, I might be overstating things there).
In typical modern MTB style, it even comes with a remote switch to allow you to operate it without taking your hands off the handlebars. Just don't confuse it with your Poploc.
Get one. Use it. Get arrested.