Tioga Edge 22 front-specific tyre – grip x 2?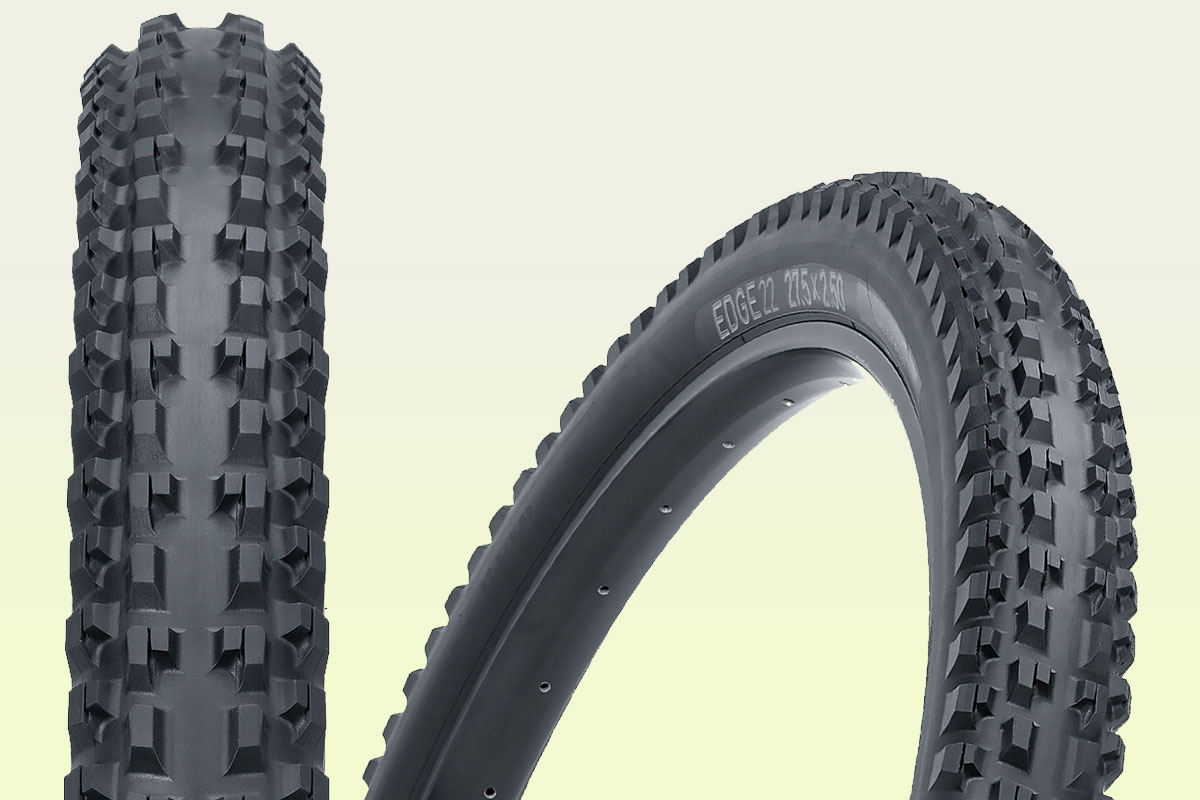 Across the web today there has been a bit of noise on a new front-specific tyre that sounds interesting – the Tioga Edge 22.
If Tioga sounds familiar it means you've been riding MTBs since way back when. Way back in the late '90s/early 2000's even. Tioga are a Japanese firm that were known for tyres, especially downhill tyres in what were then big, burly casings.
They were also known for their weird plastic Spyder MTB saddle which I never tried, but was purported to be surprisingly comfortable. For some reason I couldn't help thinking it would leave me with an imprint resembling Spiderman's backside!
All that is by the by I suppose. Like another famous Japanese tyre brand (Panaracer), Tioga kind of lost their way in the past 15 years or so as other companies have moved tyre tech and tyre options on immensely. I'm not sure what it is with Japanese firms – hubris? a little too much insularity? Whatever it is, I'm not even going to mention the Big S brand at this point.
But back to Tioga. Well, they're making efforts to re-establish themselves and the Edge 22 is an example of this. Another example is their so far non-tubeless Binary gravel tyre which uses a concept which is not dissimilar to the Edge 22s.
The idea behind the Edge 22 is rather clever – an empty centre channel with side blocks spaced to be as useful as possible once the tyre is in a turn. The Edge 22 first caught my eye when it was announced at the Taipei show in October 2018. It sounded like a clever idea then – and finally it seems the tyre is ready for the public.
The Tioga Edge 22 is tubeless, and comes in a 2.5 width in both 27.5 and 29er sizes, with a couple of different carcass flavours. Weight is around 980-1000g for the smaller wheel option. I still can't get my head round one-kilo tyres but 2.5 and upwards is a lot of rubber and I'm certain my Maxxis Minions on my 29er are at least that.
The question of course is does it work? The idea of taking stuff (rubber) out to go faster makes sense but is it at the expense of grip when you need it, such as under braking? It's noticeable that it is billed very much as a front-specific tyre, so it's likely that braking traction isn't it's forte. To be fair, Tioga offer the Glide TT for rear use.
As for cornering grip, I can imagine it is a very good place to start. There are several diagrams in the Tioga material to show how as soon as the tyre is leaning over it's finding grip, but the hidden magic will be in the rubber compound and the blocks' resistance to collapsing I think.
Time will tell but I have a feeling this concept will spawn a few imitators. If it works of course!
There's plenty more information about the Edge 22 to be found on the Tioga introductory article on the Singletrack website and the Tioga article on Bikerumor. Both websites have review samples available so keep an eye on them and see what they think.