Big Al's Peaslake mystery tour
Waking up and finding it was probably the coldest morning of the year was a good start. Why? Well because it promised crisp trails, a beautiful morning and getting out on my MTB for a change!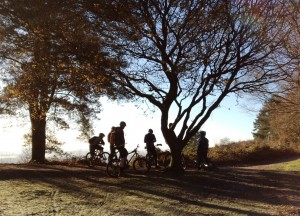 It certainly was cold. My car said -5.5degrees and by the amount of scraping I had to do I fully beleived that. Driving over to Peaslake it promised a beautiful clear morning. Al was already at the car park, as was D-dub, soon to be joined by JonH (after a "bike off the top of the car" incident that he was lucky to get away with little damage to his Yeti), Elliot, Andrew and after a short wait (keeping it real riding over) JohnR.
As usual there was a mix of bikes. Single speeds (Big Al), bigger rides (JonH and D-dub) and me joining Elliot in the 29er group with my Specialised Camber Carbon (review shortly). Elliot on a new Giant Trance?
The usual fettling and chat was abruptly curtailed as soon as John arrived. It was just too cold to be standing around, as those shivering in shorts could have confirmed. There was no shame in tights under my baggies for me!
We were straight of into the trails and immediately started climbing to get warmed up. It was soon obvious that the trails were in the best condition they had been for ages. In most places the surface was like grippy concrete,with only a few areas where the frost hadn't got fully under the trees providing a broken surface, but even there it wasn't gloopy. The only places where it wasn't idea was where the deep pools of mud hadn't frozen and this lead to slippy roots as the water was spread along the trails. Even then as soon as you left the short pools of mud, the trails were so solid that tyres cleared quickly and with a couple of revolutions you were rolling fast again.
By the power of Strava I can tell you that our route was Roller coaster, Curly Wurly, Eric, Timmy Free Ride, Annoyance, The Gulley, Double drop, Three bomb holes, Dog S*&t alley, Secret Santa (very festive), Eldorado, Rockstar, Arroyo, Carpet Land, Vauxhall Nova, One Man and his dog, Yoghurt pots, Telegraph road, I should coco, BKB. No me neither!
Still getting used to big wheels I was enjoying myself, even with a small tree hugging incident. Although Andrews Reverb switch – knee interface was worse.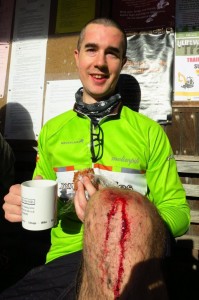 The trails were a blur of one after another – thanks Al! A great flow. Seemingly soon it was a quick teastop in the Peaslake Sunshine, where Ray turned up with another one of his "ladies". Then it was off up Rad lane for another quick blast, finishing off with BKB. A full action 16miles that seemed much harder.
Obviously we weren't the only ones thinking that it had been a great morning to get out. On our return the Walking Bottom car park was packed. The only "issue" of the day was trying to wash the bike down with a frozen hose.