Easter Monday's Birthday Biking
It was the Young Dandini's 21st today (is he really only 10 years younger than me???), so we had a rare outing together on the trails for myself and the Bambini Dandinis. My long-time cycling buddy Stu came with us, and we were very pleasantly surprised to see Jem come over to join us, too.
The BD's are not regular mtb'ers, and at 90kg the Young Dandini is more suited to his preferred sport of American Football (go the Northumbrian Mustangs!). So I had some technical but not too gnarly trails in mind, taken at a reasonably leisurely pace.
Car Park No. 2 it was, and we left there shortly after 0930 on another beautiful and sunny Easter week-end day. We span our way up Pitch Hill to the quarry car park, then up the bridlepath to the Windmill. Two Headed Dog was avoided on technical grounds, as I was told in no uncertain terms by La Dandina to bring the BD's back in one piece 🙁  We soon picked up a cheeky little trail, which started with a bit of a drop-in that caused some initial consternation, but was soon swiftly dispatched by the BD's once Jem had shown them how to do it.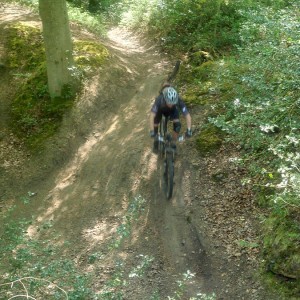 Some misreading of my Satmap then took me to the Judges Seat, rather than hitting a trail further to the West. Not wanting to set a bad example, I gave it a miss today (ahem) and we soon headed off for some other fine trails. Conditions were beautiful, with plenty of grippy drifting on offer when you hit the cambered corners just right. So that was twice on the entire ride for me then.
One switchback corner caused particular concern for the less experienced riders amongst us, before Jem again showed them the way. A close inspection of the photo shows that Jem may have required a cheeky dab to remain upright, but we'll give him the benefit of the doubt. It was this trail, and possibly this corner, that saw Master Dandini's front wheel wash out and he slid gracefully down the dusty trail on his shoulder.
We took the easy options of spinning up a few road climbs to regain height, though the bridlepath leading to Jelleys Hollow did for me and the BD's today (though last time I cleaned it despite the cracking hangover from the Hook Beer Fest).
A few more trails saw Master Dandini follow his dad down a few little drops I was expecting him to avoid, again with Jem in close attendance. Must have been the perfect lines I chose that made it look so easy for him to follow! Despite setting up a photo shoot opportunity, I then bottled out of the second jump on that particular trail. One to return to on a quiet evening and session, I think.
We headed back to Peaslake via Claw Hammer/Ladies Legs, then Ewok Village, before climbing up the road to descend back down to the car park via the major trail that leads down to the car park from the West (a major trail whose name I clearly don't know). Just before this last descent, we bumped into D-Dub who was out for a potter and heading back to the same car park. In a fit of enthusiasm, Jem latched onto D-Dub's rear wheel (always dangerous to get too close to D-Dub's rear, imho). This proved the case for Jem too, as a clearly obnoxious emission temporarily stunned poor Jem, leading to quite a stack where the trails cross a path towards the bottom of the trail.
All I could see from a distant third spot was Jem disapperaing over the crest, followed by a large cloud of dust billowing upwards. No major harm done, it would seem, and after a dusting down, Jem rolled down to the car park in one piece.
A great ride, and good to see Jem out and about, and nice to bump into D-Dub too. We covered about 17 miles of mainly technical downs, using fire-roads or lanes to regain the height, which according to my Satmap was about 1,000 metres worth!  The trails were in great condition, and was I glad I was leading for most of the ride. Even in third wheel it was getting pretty dusty.  So much so, that I needed not one but two pints of Shere Drop to wash the dust of the trails from my throat 😉