Mothers day ride and nailing it on Holmbury and Leith
Well with it being Mothers day and all that, several Moles had already posted their unavailability for Sundays ride so after rolling up at Bocketts car park with Muddy Dave at 08:30 it was good to see another 4 Moles, Tony, James, DaveW and our very own Gok Mole (AKA D'Andy) wrapped up against the biting cold and ready to ride.
Paul 901 also rolled up on one of his dark side road steed's to say hello before heading home after an early ride out.
Before we could get going D'dub produced a brand new, shiny, un-ridden, extremely bright orange, Salsa 29er from the back of his car and proceeded to build it in the car park, or so it seemed to the casual observer. Racing Ralph's adorned his wheels and questions were raised as to the grip they might provide in the mud to come.
After some initial car park faffage and banter, it was time to roll and the plan was to head over to Holmbury to suss out the Cycle Works demo day action and then work our way back round by whatever route took our fancy.
Last Friday's relentless rain and the usual route out along Admirals track to Polesden, confirmed our fears that winter had returned with a vengeance judging by the many deep puddles and squirmy lumps of mud that attached itself to most of our lower bits!
Down under the Two bridges and then Yew trees was a hoot in what seemed to be dry conditions that saw all of us let the brakes off before the slog up the other side and on to Ranmore Common.
Collar bone and Badger run followed and lived up to their reputation for being amongst the slippiest parts of the North Downs with that Oh so special claggy, squirmy clay coupled with endless wet roots, each one of which seemed to be positioned to catch you out, provided many sideways moments from front and rear wheels before hauling our selves up to the top of Whitedown.
Onward and upward took in the Abba Zabba complex and everyone wisely rolled on past the top of the AZ roll in (which had A+E written all over it today dear reader) and took the chicken run to the side, which turned out to be a sketchy handful in a couple of places anyway! I admit to having made an emergency dab or two due to poor line choices!
Blind Terror was accomplished without any real incidents before crossing the Whitedown road and heading into the Rooty complex on the other side, the name of which escapes me, but I was just glad to roll this section and get down to the road intact before heading across to Abinger Roughs.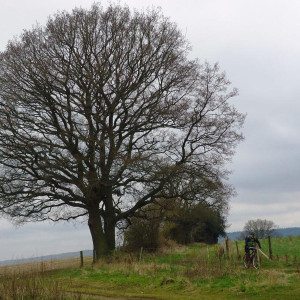 Crossing the A25 saw us take on the long suffer fest of a climb up to the top of Sutton Abinger before descending down to the Volunteer Pub and heading up towards Holmbury and what were very welcoming dry trails but followed by more climbing until we got up to the top of the recently re-opened Yoghurt Pots.
There were a fair few miles of tarmac riding today and it was like a red rag to a Bull when we were overtaken by a few guys on the way up to the YHA car park so Tony (Roadmole) set off in pursuit eventually catching them before the top of the climb before strutting his stuff in the car park while the rest of us chatted our way up.
Dragging ourselves onwards and upwards we caught up with the Cycle Works demo day mob, including Nick and Simon who were guiding round various people trying out the latest Bling machinery. Yoghurt Pots was real a blast and in good nick with only a few wet areas and puddles to contend with and everyone seemed to enjoy giving it some down the trail, closely followed by the Cycle Works guys who were dishing out some banter from the back directed at certain Moles and questioning their riding styles. (You know who you are).
MuddyDave then led us down what seemed to me to be a root strewn, muddy, slippy, technical little trail, that led down to the Holmbury village hall and the Cycle Works demo area, Secret Squirrel I think, more emergency dabs from me!
After leering at all the new Bling on offer in the demo area we deemed it rude if we didn't indulge in the free cakes and tea that was on offer. I can confirm that the cakes were of a standard that you would ride many extra miles for and most of us scoffed 3 each. One Mole, who shall remain nameless, managed 4 cakes, but the fear of litigation prevents me from naming him! However, he does have a very repetitive commute each day on Strava!
Duly loaded up with tea and cake we took on the trek across to Leith Hill Tower via the Stepmother climb (well it was Mothers day after all) and what a God awful Little Mutha of a slog this turned out to be. Riding my Stumpy 29er HT with a 1 x 10 (32×36) setup, had me longing for a real Granny ring but it was time to MTFU and settle in to what was a long suffer fest up to Leith Hill. Gok Mole had adopted his usual Friday night clubbing strategy and gone for the Granny early!
Straight on past the Tower, amazingly, as we were still full of cake, followed by a quick plunge down Personal Hygiene saw us stomping back over towards Coldharbour and into the bomb holes play area.
It was hear that an "incident" occurred as MuddyDave must have slid sideways on a wet root and slithered down the side of a bomb hole only to jam his left thumb into something and rip half the nail upwards at a jaunty 90% angle inside his glove. NASTY!!
Actually, rolling up to the scene looked much worse as he was lying there very still, clipped in with legs at angles that they were not designed to be at and we feared something much worse had happened.
After 5 minutes of sympathy (P#ss taking and a photo actually)  it was decided that James and myself would ride back with Dave to Bocketts via the least bumpy routes available while the others did the usual thing of taking in Summer Lightning, Wolverns and back up to Ranmore.
A quick stop in Westcott village stores to buy drugs for the victim and then on to Dorking and Leatherhead by road saw us battling a bitter North Easterly wind before James peeled off to Ashtead and Dave and I rolled on to Fetcham.
I will not go into what followed once we arrived at Muddy Dave Towers, but can confirm that I was glad it was him and not me that had to remove his glove and rectify the damage to his thumbnail. I do have a pic if anyone is feeling brave! 
All in all a great days riding with 30 miles, 2855ft of climbing and free cake. What's not to like!