No night for a brand new drive train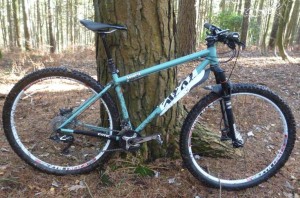 Arriving late in true JR-style (due to an accident blocking the M3 between 6.15-6.45pm), waiting patiently at the garage for me were Kev, Lee and Gordo.  They kept an un-Bazza like calm as I then spent the next five minutes trying to straighten a bent and rubbing front disc.
Adjusting the barely-functioning brakes I held back for later, on the grounds I wouldn't need them on the first, mainly uphill, sections.  To avoid knackering the drive train, Kev was not on his new toy, see photo below (which is a feeble excuse to publish some photos from the Nov 3rd ride which have only just been downloaded).
Lee and I were both on our single-speeds, and with Gordo sporting his rear bike rack (the bike doubling as his off-road commuter) the vague route proposed on the forum thread was accepted as the one major hill was dispatched early on.  Besides, no-one could come up with a plan that wouldn't involve mud, so we headed for Alsatian and Headley Heath.  A sneaky detour via The Hazels (dog-walker free), and the wiggly track to the end of Infestation, saw us on our way to the first major climb.
Despite my hurried arrival home and hasty departure, my climbing legs seemed to be functioning quite well.  Almost as if I had winged feet (feeble excuse #2 for another Nov 3rd pic).
We did manage to lose Gordo as we headed towards the flinty climb to Headley Heath and Secret Singletrack, but thanks to mobile technology, we found he was near the Cock Inn.  Waiting for him to rejoin us via the roads gave me the perfect 'faffage-window' to adjust my cable-operated discs, at last.  Now I was able to stop, which was a minor improvement.  Keeping me warm on this chilly night, was the windproof Moles 2012 top (just like the one Akak wore on Nov 3rd).
SS was great fun, and not too slippy. Life on Mars was also great fun, but was exceedingly slippy.  Here, the ability to relax and fall into a natural counter-steer greatly aided forward progress.  After Stane Street, and another recourse to mobile technology to enable the group to come back together, we headed up to the Mickleham Gallops to sample a new trail for me, The Bat Cave / Juniper Singletrack.  We won't dwell on the other route name that appears on Strava, but for enlightenment, a recourse to Urban Dictionary may be required.
We finished off by crossing the A24 at Mickleham, and heading up to Norbury Park.  We traversed around acros the top of Infestation, but headed back down via what appears on Strava as 'Norbury Traverse'.  We said goodbye to Gordo as we headed back to the garage, and my final ride stats were 26km in 1 hr 43 mins of riding; 435m were climbed, with an average speed of 15 km/hr.