Non-Mayhem Moles head to Newlands Corner
A smaller company of Moles not seduced by the delights of Mountain Mayhem or Bruce Springsteen gathered at the normal Bocketts Farm meeting place, principally to admire Ray showing off his Stelvio mountain pass ride top.  He refused to take it off all day, although this was his third layer, compared to my one!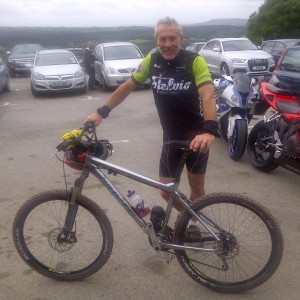 For their sins, the five of us (Jez, Lloydy, Ray, and his mate Andy) were happy to accept my suggestion of Newlands Corner via Abba Zabba.  Andy is a fit (not in the 'buff' sense, as you can see from the pics) roadie but relatively new to mountain biking, so Ray selflessly (and rather too promptly) volunteered to show him the less technical options on AZ.
So off we went, via the Hogden Lane descent to Pamplona, then the last section of the Yew Trees climb before tackling Badger Run and Collarbone.  Lloydy resisted the lure of Land Rover (not yet ridden since his last shoulder injury down there).  He also resisted my attempts to get him to reprise his tackling of the crumbling log pile on Trouble in Paradise.  This was wise, as I was in fact confusing him with Akak's recent successful attempt.  Well these tall blokes all look the same in their Moles tops (as you will find out further on in this report).
Various lines were taken down the Aba Zabba complex, with Jez and myself having some sketchy moments around the first tree.  Abinger Roughs took us to Abinger, then the usual route around the back of Shere and Albury to Water Lane.
I was resigned to bringing up the rear on this climb, but was encouraged as I slowly honed in on Lloydy's green Mole top.  Within 20 metres, I was devastated to discover this wasn't Lloydy but another rider out for a Sunday morning suffer fest who happened to have a similar appreciation of lime green.  Doh!
Fuelled by cappuccinos and muffins, we headed along the North Downs Way before taking a little detour down a fine singletrack descent that runs roughly parallel with the bridlepath climb from Combe Lane.  Having all safely negotiated this descent, we then had to suffer the climb.
This took its toll of my suffering legs, and Andy kept me company as Jez, Lloydy and Ray disappeared from view.  Turning right off the trackway to head back to the reservoir, it became apparent that the front three had headed straight on.  Voicemail messages were left on various phones, and Andy and I retraced our outward route to Ranmore.
It seemed a shame not to sample the delights of Golden Nugget, so Andy and I took the road past the church before picking up the bridlepath at the top of Ranmore Common Road and GN.  Heading back to Bocketts via Polesden Lacey, Connicut Lane and the Admirals Track.
Andy took a call from Ray when we were just five minutes away from Bocketts.  It seems that realising they'd lost us, they retraced their route along the North Downs Way before concluding we'd headed via another route.  They then headed back to Bocketts via a direct route as possible, so missing out on GN.  Sorry guys, but if you will go charging off ….
Ride stats (including the 4 miles to and from the start for me):
Ride time = 3 hours 20 minutes
Distance = 30.6 miles
Avg speed = 9.2 mph
Total time (incl stops) = 4 hours 20 minutes