Pitch & A Pint – Wed 8 June
James Pro, JR, Lloyd and myself cowered under shelter as yet another downpour drenched the car park at 7.30pm. Knowing that D-Dub had promised to appear, we gave him a call at 7.40, to find he was about 5 minutes away. So it was 5 of us, a very similar group to a fortnight ago (+JR) that set off up Pitch Hill with the black skies clearing shortly before 8pm.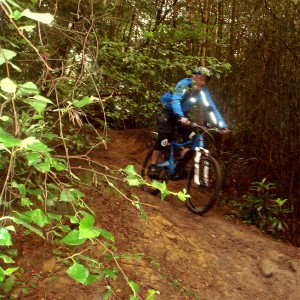 I had in mind a good smattering of the steep and techy trails that the Surrey Hills has to offer, focusing more on the Winterfold side as this is quite a distance away from Leatherhead and not often frequented by many of the Moles (though D-Dub and myself are more regular visitors). Our first 'challenge' was the steep and rooty section leading into the Quarry car park almost at the top of Leith Hill. Steep and rooty was the theme for the evening, and we all made it via various routes into the car park.
Next up was a bit of fun as I pointed out the little rock which can be used as a launch pad into the top of the car park. We all had a go, with some demonstrating that focusing on a clear exit is important, i.e. don't use the car park gate post as your 'target'. He shall remain nameless who demonstrated that speed is your friend by slowing down and consequently landing heavily on the front wheel. It's a neat little obstacle to practice on, but first check for cars pulling in!
Up the bridle path towards the windmill, where the recent rain caused a few traction issues for some. Next up was Two Headed Dog, which was quite a handful in sticky conditions. Again, 'he who shall be nameless' managed to focus on 'Matt's Tree' and ride straight into it, but gamely slithered and slid his way back up the slope, dragging his blue Orange 5 (oops) with him to make a second successful attempt. D-Dub then showed us how to ride the steeper side. I would have, of course, but I was taking photos (though my skill as a rider is reflected in my ability to take a good shot).
Next was the 'mbr trail' as it is becoming known, due to its popularity as a photo shoot trail for that magazine. This is a great little trail, and I was pleased to see that the debris from recent logging had now been cleared completely. It was blocked in 2 sections on Monday evening, when I had a little recce run of the planned route. I had cleared one section of debris, but the second section was too much for me to clear given my shortage of daylight. So thanks for clearing that, trail pixies. This is rooty Surrey Hills singletrack at its finest, fantastic.
Up to Reynards Hill and the Judges Seat we headed, with me attempting the smaller left-hand drop, and D-Dub showing us how to tackle the middle drop. He informed me that these 3 drops are named after Goldilocks' 3 bears, so my swollen ego was deflated somewhat to know I had just cleared 'Baby Bear'. Time for a fast descent down to Jelley's Hollow (stop sniggering, Matt). Here the damp roots claimed their first victim of the night, with Lloyd coming a cropper on one of the rootier sections. It didn't seem to slow him down much though, fair play.
Next we tried one of the cheekier Winterfold Hill trails. This was great, with the wet and loose earth causing more challenges than normal. The Swamp Thing front tyre was fine, but there was a lot of drifting going on with the Cross Mark on the rear. Anyone recommend a good rear tyre for the Surrey Hills? (don't answer that, just kidding). This trail has a couple of great little drops and jumps in, and James and I whooped as we cleared the first main feature. Unfortunately my cheap rear tyre (it's not my riding ability, of course) let me down as I slid sideways round the bend when trying to line up the second drop and I hit the dirt. I didn't feel so bad when D-Dub copied both my line and my fall about 30 seconds later.
It's a long tarmac pull to the top of the hill, and here we headed back towards the north side of Winterfold Hill and into Winterfold Woods, eventually hitting Ladies Legs / Claw-hammer and the Ewoc trail. First we had to sort out James' minor mechanical which was a bent derailleur from a close encounter with a large stick. Next we had to sort out D-Dub's lack of lights, which involved trying to cram my medium-sized helmet (the mtb variety, Lee) onto his large-sized cranium. Lights were needed, as it was now well past 9pm, having larked about with photos and drops.
The helmet light was sorely missed as the bar lights didn't let me see much of what was lurking round the corners in the gloomy woods. It did give me a great excuse a I stalled on the climbs, though, as I couldn't pick out the roots that crossed the trail and I slammed into them or spun out as I applied any power. Our final descent was down the side of the Hurtwood to the West of the main trail from the car park up to Pitch Hill. We rolled into the car park around 10pm.
The Shere Drop was in excellent condition at the Hurtwood Inn, and here I confessed that I'd actually cleared 'Baby Bear' on Monday evening out on my recce ride. So I apologized for allowing the impression to be created that tonight's was my first attempt. With James acting as my chauffeur, I treated myself to a second pint to replace the minerals and fluids lost on the ride. I also think I've persuaded JR to partake of a 'downhill' day at the Forest of Dean or the UK Bike Park. He seems to think it would be fun to ride back up all the time rather than sitting in a truck though.