Ride report: Sunday 28 April – Still Sunny
Earlier in the week the weekend had looked like it could be a washout with hailstones forecast at one stage. Luckily the forecast changed as we got nearer the weekend and the sun stayed.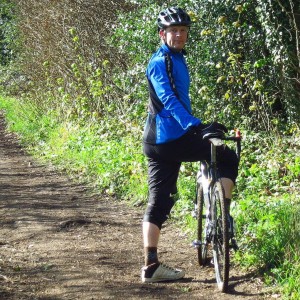 Not only is Colin looking like a 1980's Littlewoods catalogue model for cycle jackets (52 weeks at £2.88!) he was also very cross. CX that is. So this was a bit of a land mark ride for the Moles. Granted we've had some pretty rough bikes out but never one that crosses the lines of road and mud as much as a proper Whyte CX bike. Very nice it was too but we've had to ignore all Strava times set by Colin today.
Colin, Ray, Lloyd, James, Tony, John, Karl, Kev and myself were joined by a couple of new riders David and Lee. We all aimed to make the most of what we hoped were still reasonably dry trails. Granted the puddles on Admirals Track were still in place but fingers crossed for the rest of the ride. Kev had decreed, given his rank, that we would ride to Leith Hill via the Fisheries and it seemed OK to me.
Up to Ranmore by way of Tanners Hatch it soon became apparent that the early cool temperature was not staying as sleeves came of Gore Phantom jackets and we streched out. At the top we headed towards McPhearsons to take in a swift descent passing Wobbem and RobM from DotMB. Colin seemed undaunted by the steep descent although there was a distinct wiff of Avid mechanicals disc pads when I hit the bottom left hand turn.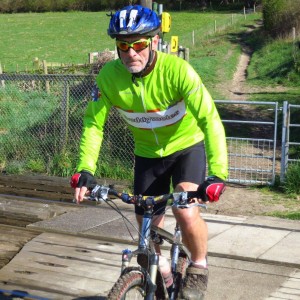 From the railway we treked to Unum and turned right to corss the raod and pick up the bridleway. Road and place names elude me here and laziness prevents me from looking them up but it;s a nice will section that includes a long climb at the end past a farm. A certain Grand Mole appears to have KoM up there but obviously JR didn't know about it!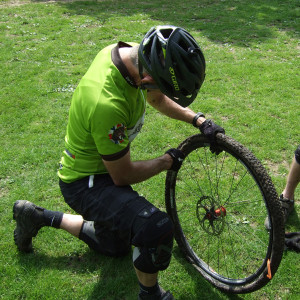 Ray was also on the lead/chasing group as I watched them disappear into the distance
From there as nice climb up to join Wolverns Lane allowed us to join much more familiar trails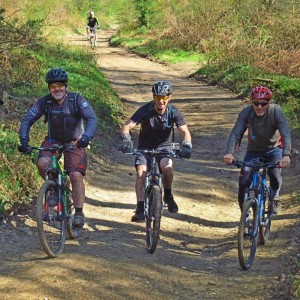 Passing Jess from Singletrack School I exchanged the usual pleasentries while Colin got a slow shake of the head and told "that's just wrong". We quickly made for the top of Leith Hill and we wated no time in heading for refreshments. It was looking good for a clear climb today but I span out on som roots and Karl veared off course putting an end ot our attempts. Some made it, many did not!
And so to the new cake shop. It's bit mixed really. £2 seems to be the price of choice and the flapjack is suitable large and sticky so I was happy with that. The hot chcolate less so. Personally when I buy a drink I want a drink. Not half a cup of froth and that is very much what I felt I got. Also I like strong chocolate and I don't think you ever going to get that with that amount of froth. So, 5/10 for me I'm afraid. John said the tea was very nice.
Personal Hygiene was nice and grippy and Tony and I headed in first. Thie we followed witha run through Moonbase/Chicken Wings netting me a PR much to my surprise. I did clear my nemesis only to take an "interesting" line a little firther on. Passing the cricket pitch I also cleared the "thumb nail ripper" section, much to my relief, without incident and even took in the easier descent of Deliverence with Karl showing us how the real thing should be done.
Colin was getting soft by the time we finished Waggledance and without Dandy's "Big B@stard" pump on hand he had to make do with my Mountain Morph. By the start of Summer Lightning it was apparent his latex had punctured!
Some of the others pottled off while Tony and I stayed to help and then give SL a bit of a session. No PRs for me but a great section anyway. Our normal route back via Wolverns Lane, the Rookery descent and then up to Ranmore via Low Med. Golden Nugget was mentioned and we headed there next. I can't say it was totally dry but obviously dry enought for me to pick up a PR and although I could claim Tony held me up in reality he left me at the end as I ran wide on one of the final turns. David executed a bit of dive on the final turn but nothing damaged other than his pride. In fairness to him he answered the accident with the well trodden path of many Moles. "How much is a better bike going to set me back?"
At home I ended up with just over 25 miles on the clock so I think the ride look must have been 23ish miles in generally sunny weather. Maybe, just maybe…..no I'm not going to tempt fate!