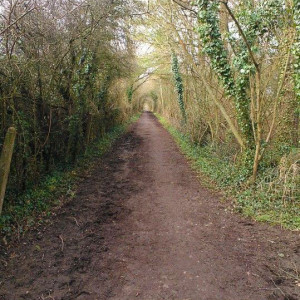 There's plenty of commentary out there about the Downs Link, mostly of a very anorak-ish nature, so let me just start at the end – GO RIDE IT!
My target was simple for my first epic ride in ages – ride 100k. Bramley to Shoreham and back fitted the bill perfectly. The cross bike seemed the ideal weapon and I was right as the trail is 90% off road, gnar-free with long stretches of consistent effort required.
Other than a fairly rude but short-lived climb and descent near Rudgwick, the trail climbs and falls stealthily, allowing you to just get in the zone and focus on whatever you want to. In my case, I always have these great illusions about being able to think and put the world to rights when I'm out for a solo ride, but other than fleeting moments, this doesn't happen (thankfully) and I end up just clearing my mind and riding – nice.
Despite the foul, hideous, disgusting weather we have endured since forever, the trail was in fantastic shape and a testimony to the foundations (being an old railway line on the whole). It was muddy and wet in places and yes, I did get absolutely caked, but it was only surface mud, if there is such a concept?
The only real blight was a field about 15k from Shoreham that was almost impossible to cross. So bad it was, that my Garmin kept going on 'Auto Pause' mode, even though I was still pedalling! Hey, this was a tiny part of the journey so it didn't ruin my day.
If I remember rightly, Rough Guide have failed to publish a book on Shoreham, so I decided that as soon as I had done 50k on the outbound leg AND had a good view of Lancing Chapel, I would turn around and that's just what I did, deciding to skip Shoreham's major tourist attractions and a view of the sea and head back to Southwater for a very late lunch.
By the time I got there, I only had an hour or so of light left and half that again to ride as I had just completely not considered needing lights so this was a lightning stop for some welcome calories and I was quickly on my way, forgetting to resume my Garmin and missing a shade over 4km before I realised.
The last 5k were very dark ones so my pace slowed a bit, which by then was quite welcome and I rolled back into Bramley at 17:45, feeling a real sense of accomplishment, despite the Garmin showing 98.9km, how very annoying.
I can highly recommend this trail to anyone. If you're training for an epic event or race, its ideal as you can't train anywhere else I can think of at such a constant and uninterrupted pace (no traffic lights or junctions) or in such pleasant surroundings. However, if you just want an epic ride in as long as it takes, its ideal. There are plenty of bridges, nice views and café's or pubs en route too.
Unlike some reports I have read, I found the scenery varies plenty, with lots of very long, tunnel-like stretches of trail through the trees but also some lovely open vistas across the Weald and then the South Downs.
Finally, a word of warning. Without exception, every one of the many walkers I encountered was completely oblivious to my bell, diligently fitted and used for the occasion. I shall be dusting off the famous Duck Whistle for my next visit.
If you liked this, you might also find Jez's experience on the Downs Link interesting.
More of photos are also available on Flickr