Ride report: Friday 29 April – Hindhead
Not tempted by 6 hours of TV coverage and union jack waving, 14 Moles (Gary, Matt , Dave, John, Karl, Kev, Dandy, Alex, Lloyd, Bruce, Simon, BigAl, TonyD) decided to celebrate the 'big day' by caining a classic West Surrey/Hampshire/Sussex mega-loop from Hindhead via Black Down.
With a revised start point just around the corner from the Devil's Punchbowl, we were about to clip-in when John revealed he'd locked his bike in the back of the car the night before and left the key at home! He was still keen to ride so we quickly worked out a suitable rendezvous point (Champneys) allowing him time to trot home and unlock it.
So, 13 headed west through the woods, picking up speed into tight rooty single-track which quickly raised the grin-factor. As the last of the group popped out onto the main trail we had our first puncture… Gary's Camelbak bladder! At least a litre had pissed out all over his back on the first descent. A rapid repair with a Park Tool patch saw us on our way, into a tight right hand turn down 'death star gully' – more tree dodging down a heavy leafy path as we lost significantly more height down to a small road.
Next, a short, but tricky climb up a By-way brought us out directly opposite Grayshott Hall Spa. After circumnavigating the Spa we cruised nicely onto the sandy Ludshott Common before spinning out several miles later at Headley (the other one). I'd recently added in a sweet section here along the picturesque River Wey. The bank was narrow and rooty and I was sure at least one of us would get a soaking. No chance – all through dry.
A brief stop at Passfield Stores for some supplies, and a re-setting of Bruce's Cannondale Rize front mech, we blasted on across Woolmer Forest, eventually over the A3, over Longmoor Camp and out to Champneys Health Spa. There's a beautiful lake here, the loungers were out and residents milled around the grounds in bath robes.
At the end of the road we hooked up with John who was keen to get stuck in and headed off across the Golf Course, down the Sussex Border Path into Shufflesheeps where Gary sniffed out a secret 'jump park '. A cracking spot to get some 'air', albeit littered with rubbish including a sofa, shopping trolley and an old bike frame!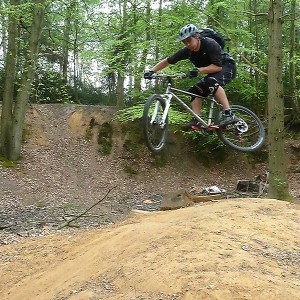 Stanley Common beckoned and it was time for a short break at the half-way point, with a handy bench seat for those who could nab it. This was a timely rest stop for Alex who's knee was playing up following a football injury just before Christmas.
After consulting the GPS, and with Alex's knee getting worse, Dandy & Son peeled off towards Liphook, while the rest of us climbed through Cognor Wood, rewarded with a great decent down to Kingsley Green/Hatch Hill Farm. 12 continued on more roller-coaster trail through a mixture of single-track, bluebell infested bridleways and By-ways to the foot of Black Down.
At 919 ft Black Down is the highest hill in Sussex, only second to Leith Hill in southeast England. Congrats to John, Gary and Matt for clearing the climb. At the top Kev pointed out the contour lines on his Garmin – this really is one mother of a climb.
From the Black Down viewpoint we cut across the edge of the hill on quirky single-track, flushing out into Black Down National Trust car park. A brief stop, and a quick warning from me about the next descent (full of larger than normal rocks and logs,) and off we went.
I hate getting to the bottom of a big gnarly descent to find a handful haven't popped out. Perhaps they'd taken a wrong turn? That wasn't possible on this run. That meant one thing, someone had stacked it. Dave and I strolled back up the trail to find Karl had endo'd it. But not a scracth on him… except a 1cm hole in the top inside of his leg that you could stick half your thumb in.
Kev patched him up, and after drawing on some energy gel to calm the shock, we scratched our heads trying to work out exactly what had punctured him. "There's no claret on the brake lever", pointed out Dave. And nothing else in the vicinity that could have caused such a wound. It was a mystery.
With about 8 miles to go Karl dug in and we criss-crossed bridleways and fields, tracking past some magnificent tudor buildings en route. Then, the climb out. You could feel it building. All that height we'd lost at the beginning was starting to show as we began out ascent of the south side of the hills leading up to the Devils Punchbowl. Karl hung in well despite the injury, and eventually we arrived at the Devil's Punchbowl National Trust café for some well earned tea and flapjack.
Approx 30 miles, 850m of ascent and 860 metres of descent. Judging by the smiles we'll be doing this one again, soon. Route info here from my Garmin Edge 500.