Ride report: Salsa Mukluk and Horsethief at Swinley
Today we were treated to a mini demo day round Swinley, courtesy Pat from Ison Distribution and Salsa Bikes.
Earlier in the year we got hold of a Salsa Horsethief 3 for review but with the new DW Split Pivot redesign to the back end we wanted to see how things have progressed. Plus, for laughs Pat brought along a Salsa Mukluk fat bike to satisfy our super-size cravings.
It felt strange to be driving to Swinley minus our bikes, knowing we'd be riding a couple of machines we'd never set eyes on before today. Equally weird was the sensation of starting out on a ride on that fat bike with everyone's eyes on it as I made my way through the car park. I kept thinking I'd forogtten some important part of my outfit, like my shorts for example. I haven't had that much attention in years…
But before that our band of weekend warriors had the pre-ride prepping ritual to enact, which as usual included much fettling, fiddling and fondling of machinery. I needed to adjust air pressures on the Mukluk, which started with an ultra squidgy lack of air that had everyone pondering how effective it might be out on the trails as it folded over on itself at the slightest obstacle.
Thankfully, Tony had a track pump which made short work of getting up to about 15psi. If he hadn't the alternative might have left me to undertake an extended pump session with Dave's Mighty Morph hand pump.
Meanwhile, Dave was readying the Horsethief for action which consisted mainly of putting some pedals on it as it was pretty much ready to go, looking very fetching in bright green. Eventually we were ready to go, with a big group of fourteen (14) consisting of Al, Tony, Jem, Albert, Yvette, Chrissy, Lloyd, Elliott, John, Andrew, Pat, Ed, Dave and myself.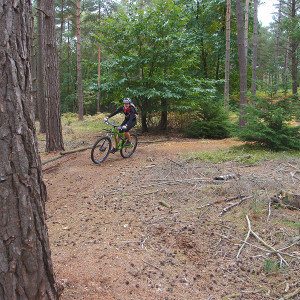 We were planning a stop and start kind of ride to swap bikes between anyone who was interested but there was nothing leisurely about our first mile or two. I had the pleasure of trying the Mukluk first and it was soon apparant that a drastic adjustment to riding style was needed. Put simply you need a big haul on the wide handlebars to get it to do what you want but once you've adjusted to it the bike is a blast to ride up and downhill, with simply tons of grip on the dry, almost dusty Swinley trails.
Ultimately a rigid bike will have it's limits but that said this fat bike certainly liked spending time off the ground. I imagine tyre pressure experimentation would pay dividends over the course of a couple of ride to get the behaviour you want.
But today was a bit of a swinger's party with everyone in a share and share alike mindset. Before long I'd exchanged the Mukluk for Tony's carbon Specialized Camber 29er and was recalibrating my expectations again on a bike which feels very fast and very light. The contrast with the Mukluk was huge with the normally reliable Spesh handling suddenly feeling darty and nervous. And that's after just a few miles on the fat bike!
After that I was on the Horsethief which feels like a markedly different machine to the original Salsa design. It too felt immediately fast and although us Euro-boys use the word Enduro sparingly it was clear this machine is well suited to fast running with plenty of trail variety thrown in.
Swinley's all-weather work is growing on me, today the trails felt pretty good with their bermy goodness not causing me too much trouble, probably becuase we were for the most part riding briskly but not flat out. Stickler came and went without feeling you had berm indigestion and Tank Traps was running well too.
Our machine swapping continued with riders grabbing their chances when they came to throw a leg over the Mukluk or Horsethief and being impressed by them in equal measure but for very different reasons. At various poits I found myself on Elliott's Stumpjumper (which is sofa-soft), John's Five (which has suspension in far better tune than mine, but brakes that scared me!), Chrissy's Whyte T129 (tiny! fun!) and God knows what else! The amazing thing was how differently everyone seems to set up their bikes, it just shows there's no obvious right or wrong answer to anything.
Of course, we used the Corkscrew area as a short-course playground which was excellent fun but hard work lapping round and round on different bikes. Dave managed a spectacular (and painful) off-piste excursion on Al's bike. After lapping til we all got dizzy it was off to Seagull and then Reservoir Cogs.
Wow! I took the Mukluk down there, chasing Tony and had a blast on all the smooth swoops and over tables and such like. The fat bike likes to fly but I was soon giggling nervously when we hit the rootier lower sections, where I rattled through on a wing and a prayer and a regretable absence of suspension. I would have turned white if I hadn't been blowing so hard from all the effort.
Next was Deerstalker after the Mukluk 2×10 gearing made steady work of the climb up. Coming down, yikes! I followed Dave, briefly, who was reunited with the Horsethief and soon lost him as the fat bike was soon showing that fast technical singletrack is not really it's natural habitat. It's mainly just that there's too much rolling mass to turn quickly enough, although it makes short work of the flowier bits.
Round again and this time Dave had the Mukluk and I lead on the Horsethief which was a night and day experience. That DW-link back end is unobtrusively active if that makes sense? I felt suddenly that I had upgraded to business class as that Horsethief really makes a decent job of things. Continuing over into the Labyrinth I found the suspension was very stable under out of the saddle climbs with little bob to worry about and lots of traction.
As we were starting to head back I swapped for the last time, getting to ride Pat's titanium El Mariachi hardtail and handing Ed the Mukluk. This was once again a completely different kettle of fish with a very racy XC oriented set up that included relatively narrow Salsa carbon handlebars and a lightweight Stans 355 wheelset. I expected fast fun which it surely provided but I thought at first I had a puncture as it was squirreling very noticeably powering out of turns.
I thought this might be a titanium or design trade off for what was a very smooth ride but eventually Pat and I agreed it's probably the lightweight wheelset that might be in need to a spoke key or two. It was still a lot of fun on the monster berms on the final few sections back to the car park.
All in all today was one of the best rides I've had for ages. The company was fantastic with a large group of us out to have fun and share plenty of jokes, and trying different riders' bikes was a real eye opener. Trying the three Salsa bikes was a real treat, I've managed to cross off titanium and fat bikes from my must ride list.
Look out for individual summaries of the Mukluk and Horsethief over the next few days, for now you can see pictures from our ride on Flickr.