Ride report: Saturday 6 June – Swinley on my mind

Well that doesn't happen very often. Not only a full day of riding for the Moles but an evening curry to finish it all off. And after 26 miles round Swinley (Swinley pictures, courtesy of Neil are on Flickr), finished off we most certainly were.
It's been a bit in the planning this one and at one point I thought I might have to miss it as a family do arrived to get in the way. Fortunately for my brother-in-law Mark and myself we stood shoulder to shoulder and resisted demands for our attendance (well, we each blamed the other in fact) with the result that we met DaveP, Jem, Colin, Darryl, Neil, Tim, Andy, Warren, Nick and Jason at 9:00 in the cafe at the Lookout car park. Not a bad turnout given that Dave, Lee and Tony couldn't make it.
Things looked a bit damp at the outset as we faffed around getting the bikes ready but we were soon on our way, benefiting from Warren's patient guidance and local knowledge. Unfortunately we were initially without Nick who suffered the bike tourists nightmare of having left his riding shoes at home. A trip home meant he met us mid-morning by the bombholes.
I lost count of how many trails we rode where the wet leaves and branches slapped me in the face after the recent rain but the trails themselves were fine, even if by the end of the day it looked as though most of them were on my bike.
For me, the day was a perfect storm as the combination of testing (but not too testing) trails, the novelty my Orange Five and some recent fitness came together nicely.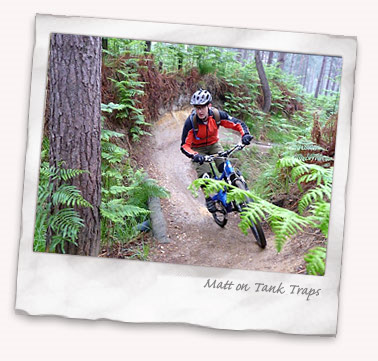 I'd like to be able to say what trails we rode but I'm a stranger to these parts so will content myself by saying we sessioned Tank Traps a couple of times (will I ever get the right combination of speed and flow through there?) before moving on to tour some cracking trails. Some of them were roped off thanks to the current film work for the next Harry Potter movie (is that the Half-cut Prince?) but with such a huge selection of routes it didn't really affect us too much.
Another spot I could name is the Corkscrew which gave us the chance of more play as I tried both my bike and Mark's Inbred 456 which was nicely chuckable round the twisting course even if his fork was pumped up so hard it was next to useless. It might be time for Mark to sacrifice a kidney as this is a cracking machine just crying out for a Fox Vanilla on the front. And slightly more reliable gears… at the moment, they're better but still not something you'd trust.
The playing continued just up from the Corkscrew at the bombholes (there's always a bombholes somewhere isn't there?) while we waited for Nick, now properly shoed-up to join us. I had a great time, as did the rest of us, on the big roll in which transitioned nicely into a fun jump. Most of us got off the ground to some degree or other although some of the landings were a bit lairy!
Highlights of the morning included more of the same great trails which we all managed to ride free of mechanicals even if Darryl turned out to be a serial fiddler, tweaking his set up after each section. Which included changing shock pressures, brake lever positions, gear lever positions and God knows what else. Thank God he didn't have an alternative set of tyres in his back pack!
Another memorable moment was Jason's 'save' coming down a steep roll in, if you can consider riding down it with the crossbar giving your wedding tackle a centre parting a save! At least he didn't fall off, which was more than I can say.
One moment I was just riding along (really!), the next I was over the bars and crashing heavily on my dodgy shoulder. For a moment I thought it was last year all over again but I was completely unhurt, if shaken. I think I got a stick in the front wheel as I'd heard a slight clunk a moment earlier but couldn't find it afterward. The result was like riding into an invisible wall as an unseen hand called Momentum just threw me clean over the bars. If only I'd been filmed it would have made good viewing. As it was, Mark had a ring-side seat as I went over with no time to break my fall at all.
After lunch at the cafe, where we said goodbye to Neil we headed out again with the intention of a bit more play in mind. We found the jump gulley where DaveP, fizzing with confidence after some nice runs stacked it on the double at the end, going down heavily and giving himself a dead leg which caused him more pain as the ride went on.
Colin eventually cleaned the double as we got more and more confident; I even managed to get close myself but just couldn't help pulling my punches at the last moment. I got the front and rear wheels either side of the second hump on my last run and now realise it's a question of confidence and speed before I clean it. Well, I can work on that…
We then crossed over the the hill to the big play area above the jump gulley with a few of us taking on the jumps, again with a certain amount of caution. Even so, I was increasingly happy with my riding and threw the bike off most things we came across, all bar the log drop we found. I don't know why but I just looked at it too long.
By then we'd been joined by Nicki and her other half who were on an 'adrenalin' weekend – riding followed by Boogie Boarding. She put us all to shame on her late 90's Spesh FSR with Magura hydraulic rim brakes and semi slick Conti tyres as she gamely had a go at pretty much anything despite never having ridden off road before. It put all our expensive kit and riding theories into context that's for sure.
After much fun we finally reached the Labyrinth which just gets better each time I ride it. I was in the groove, finally learning to trust the berms but I couldn't keep up with Nick on the top section as he disappeared down the trail. Since I last tried it I have definitely got fitter as I felt so much more energised throughout the run, even when it turns tight and twisty uphill.
But by the time we had reached the end and said goodbye to Nicki and her partner we were all starting to feel the cumulative effects of over twenty miles of hard riding. The climb back up to the top had us all pushing (shame on us!) before we disappeared down the Labyrinth entrance which leads to the jump alley.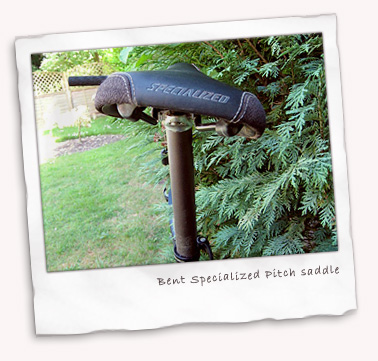 With a days riding behind us we all took it on with gusto. Colin in particular found out just how much energy is involved as he landed his Specialized Pitch 'a bit heavily' coming down from the second table top, with the result you see here. One very bent saddle and a fairly high chance that his family will be stopping at four children!
Once again I surprised myself by at least getting some air over the table tops even if I didn't ride them as they're supposed to be ridden. And again, it's confidence and speed that is needed.
It was time to head back with increasingly heavy legs evident in our riding but there was still time for one last cheeky run which had Jem and me whooping over a huge jump which I nailed perfectly; but after that it was hard work dragging ourselves home.
By the time we reached the car park for the final time at around 4:30, all was quiet in the group and with DaveP around, that's unusual (!) but we were all exhausted. After stashing the bikes in the van and getting changed we recuperated with tea, coffee and cake in the cafe (in Colin's case, egg and beans on toast!).
We went home I think with everyone feeling very pleased with their days efforts – with around 25 miles each and twelve riders that's 300 miles of riding with no mechanicals or punctures which helped the days ambience no end. Special thanks have to go to Warren for showing us around and for being extremely patient while we minced stuff that he could clearly ride with ease.
To finish off, we all met up again at 7:30 in the pub for drinks followed by a decent curry (where we found Tony and his missus hoping for a quiet meal!) to round off a great day; you have to ask, what else could a mountain biker want from life? Well, I'd like a new set of forks, some new clothes, some… OK, OK, I'll quit while I'm ahead!
Thanks to all, it was wicked.