Ride report: Saturday 8 June – D'andy ride

This week may have been unusual for a number of reasons but in many ways was a classic Moles ride.
Apart from happening on a Saturday – and I'm not sure I can remember another Saturday Moles group ride – it featured D'Andy, our far-flung Canadian mole.
The last we saw of D'Andy was back in January 2017 and though two and a half years is not much, it's enough to be realise that D'Andy brings a unique brand of riding wherever he goes. God help the British Colombians…
However, this weekend a small window was available to welcome D'Andy on a flying visit to the UK. First off, drinks and sausage (not a euphemism but a genuine South African braai) round at Lloyd's on Friday night, generously hosting a splendid evening lubricated by the Surrey Hills brewery.
We had a great turnout of Moles for a very social evening. Improbably, some of us were able to rouse ourselves for 9:00 the next morning for a ride from Bockett's, with D'Andy accepting the loan of Tony's Orange Four for the morning.
Joining myself, Tony and D'Andy were Elliot, Jem, JamesS and MarkP making a group of seven with the idea being a winch and plummet kind of ride around some of the old and new Ranmore trails.
Conditions weren't exactly helped by overnight rain which made things unpredictable at times. We soon found this out on the first trail – View To A Kill – which suddenly seemed to have sprouted a mess of tree roots that I swear weren't there on Tuesday when I last rode it.
Within ten minutes of the start of the ride, and right at the ambitious end of View To A Kill, Jem managed to stack his bike and bend his front brake lever spectacularly out of shape, resulting in our first Post Mortem of the morning.
Once we'd decided that there was no immediate fix, we set off up to Ranmore via the Dearly Beloved climb which certainly got the heart pumping although I noticed I'm the only person who seemed to be panting. I must be getting old.
From the top it was down again, via Rumble In The Jungle albeit at a slightly circumspect pace given that the trails had handed back most of their recent grip. It doesn't stop the fun though and amazingly we got to the bottom without incident before climbing the long drag back up to Ranmore through Ashcombe Wood.
After a brief stop for Elliot to adjust his bike – another event I'm not sure I've ever witnessed before – we set off for Red, White and Rose. This is a trail that has soaked up a lot of D'Andy-centric ambition over the years and handed it back to him on a plate, but this time there were no such problems.
I was particularly pleased to dispatch the root mess over the top of the bombhole with ease, figuring the best way of not slipping on the roots was to touch them as little as possible – hooray for 29ers with fat tyres!
The flow continued at the 'just right' level of intensity to the bottom, from where we set off for Box Hill.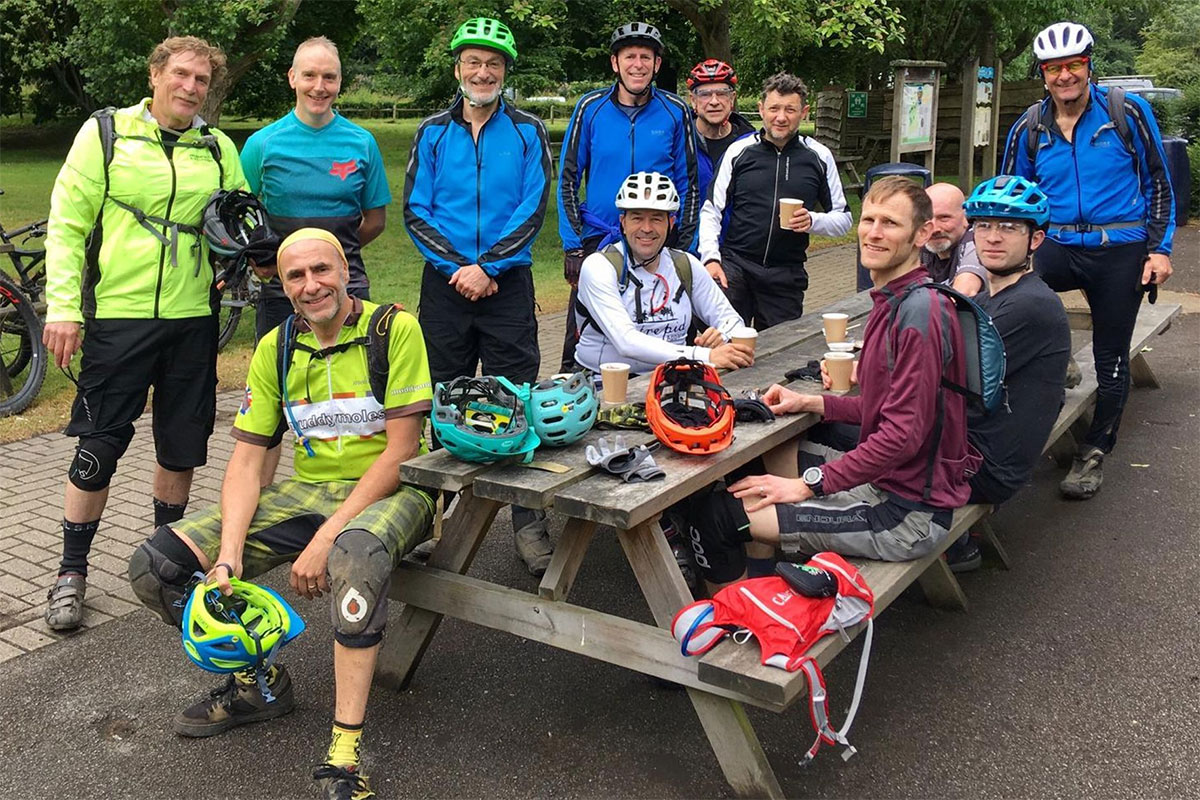 Passing the bottom, Tony led us into Rykas to rendezvous with JohnR and his crew who were having a coffee stop. Learning that the Box Hill tea room was out of action, we decided to join them. Again, I can't remember the last time I was here.
Suitably refreshed, and saying farewell to a departing James, we took the old bridlepath up to the top of Box Hill. When we first started riding, on V-braked elastomer sprung XC hardtails with a nominal 50mm of undamped travel (and occassionally a Girvin Flex-stem) this was a common route. In fact, it was about as gnarly as we got. Up to Box Hill, cake, then back down Happy Valley to Juniper Hall and home for tea and crumpets.
These days, the options have broadened a little but discretely so. You don't want to upset the walkers after all, or in this case two separate (friendly) groups of trail runners. Rather than the old plunge down Happy Valley (which was pretty dicey on those bikes of yesteryear), we made our way to China Pig 2 or Pseudo Pig or whatever it's called.
Now China Pig is one of my favourite trails, even if I don't quite have the stamina to push all the way to the end. China Pig 2 is a different proposition, much more twisty and noodly. It tracks the top edge of the valley that the original China Pig follows and picks a discrete path through the trees.
We only tend to ride it in the dry because it's mainly clay and that's not a great option when the winter sets in. Nor is it ideal when it's rained heavily overnight! There's one off-camber section that takes a little finesse to navigate with minimal grip at the best of times.
Following Tony and then D'Andy, I watched both of them discard their bikes and lie down in front of me. With no grip either, and no-where to go, I too joined them on my arse having done well – I think – to have steered my bike away from them.
The picture doesn't do this incline justice but as an indication, when D'Andy stood up he promptly fell flat on his face again. At this point it was clear we were experiencing another classic D'Andy ride.
Once we reached the bottom, Tony unusually wanted to push on a little further. When we reached the bottom of Stane Street he decided we'd gone far enough and stopped us all, handing out a batch of medals each saying 'I cycled a whole 10 miles with D'Andy'. This celebration was in recognition of the fact that according to D'Andy's Strava he rarely manages more than 10 miles per ride out in Vancouver! It's hoped this will become the SI Unit of MTB effort, if not expertise!
With Stane Street before us, we decided to climb up and along Mickleham Gallops. Sadly Vietcong is now unavailable, so instead we took Andy up to try out Lloyd's Left Leg which I was pleased to see was stick free even if the local moisture was rendering it a little slippy. After that, it was a quick run thorugh Pot Noodle before our time ran out and we headed for home.
At this point, Jem had realised his Garmin was missing and the only place it could be was back at the scene of his stack first thing. He left us climbing up through Norbury Park and set off to try and find it (which luckily for him he did).
There were signs of people starting to tire after dragging ourselves up the hill as the day quickly grew warmer. By the time we reached Bocketts Farm we had managed about 16 miles (or 1.6 Dandys) which gave me 19 miles door to door and 2,500ft of climbing.
I have to say it was great first of all to be riding with the guys again, even if not everyone had been able to get out on the Saturday morning. They really are a great bunch. It was also a pleasure to ride with D'Andy around the Surrey Hills and great to know we are so well represented in the New World!