Ride report. Sun 9 June – Leith and Holmbury
Another ride to Leith and Holmbury seemed to be up for everyone's taste, including those about to take part in the Mountain Mayhem extravaganza at Gatcombe Park on the 15/16 June, so the assembled riders at Bocketts car park consisting of, Yvette, Ginny, James, John R, Karl, Dave C, Dave W, Elliott and Big Al, who rode over from Coldharbour, headed off with a plan to put in some miles and a bit of climbing. (apologies if I missed anyone).
We had only been going about 10 minutes when an unscheduled stop for Dave C to inspect a rapidly softening rear tyre meant a longish stop on the way up to Polesden.
Latex issues and broken valve stems in pumps spring to mind and this resulted in much faffage as we inserted a spare tube only to see it deflate in rapid time!
In went another tube and this too collapsed, DOH! Question, how many Moles does it take to fix a puncture? Answer, loads!!
Sadly this meant we had to leave a moderately Grumpy Dave to return home for repairs and continue on up to Ranmore without him.
After a rapid thrash down a beautifully fast and dry McPhersons we headed over the railway and down to the Dorking Road before climbing on up past the fisheries and up to Leith Hill via the Stinky Farm climb.
Passing Deliverance saw D'Dub and Karl take on the dodgy descent without incident while the rest of us headed round to the bombholes for a quick play.
The bombholes were dispatched with varying degress of style and results but no incidents occurred before heading on up to the tower climb and tea, cakes, pasties etc.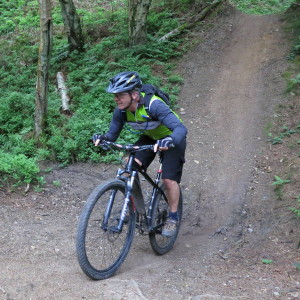 After meeting up with Adam at the tower Big Al headed on down to Coldharbour and home while the rest of us rolled off down towards Holmbury, first taking in the Mother and various other trails the names of which elude me.
The Mother was a blast before heading across to the top of Telegraph and letting rip down the full length of the trail in superb conditions!
Elliott, D'Dub and Adam screamed off in front followed by the rest of us in various states of control, no control, out of control etc etc. 🙂
Grins all round followed apart from D'Dub who had left his rucksack back up at the tower .. bye Dave, so we departed without him.
Heading for home down to the Volunteer and over the fast descent to Abinger Hammer before grinding up to the Abinger common saw Ginny peel off as she was not feeling too great so decided to head back along the roads to Bocketts.
A collective decision to head back up to Ranmore via the lovely Whitedown climb meant we had a long grind upwards to endure, but to be honest it seems to be getting easier the more we do it! Elliott certainly rolled up it without any problem and as JR was at the back taking pics he had no competition and Yvette seemed to smile her way up it!
To be honest the views are superb and almost make up for the pain of the climb!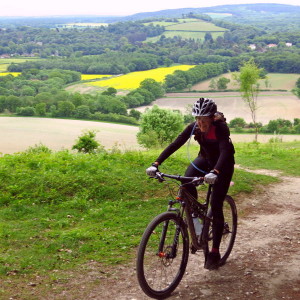 Back along the Ranmore road before battering down Hogden Lane (Thanks JR) meant we took a beating on what is becoming a really loose rocky flinty strewn track with lots of potential for disaster.
In fact after summitting Polesden I saw Yvette bearing the tell tale marks of an off, but she seemed ok and no visible damage done.
We finally arrived back at Bocketts car park with a depleted crew of James, Karl, Elliott and myself due to riders peeling off for home at various points, after yet another dry 'n dusty ride in great company saw 25 miles on the clock and a respectable 2842ft of climbing so all good. Long may it continue.
Also met Ginny coming back along the road to Bocketts so good to know she made it safely back as well.