Ride report: Sunday 1 March – Holmbury and Pitch Hill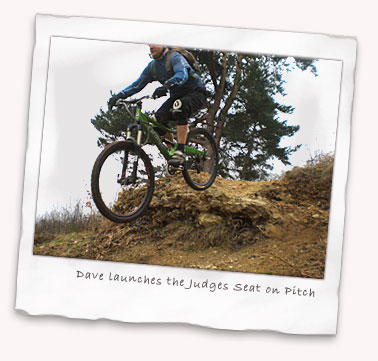 So we're into March and it was one of those rides. I didn't want it to end; but it had to, not least because I was knackered after 14 miles over Holmbury and Pitch Hills for an excursion around parts of our lovely Surrey singletrack.
In attendance were four riders who I've only rarely seen together in daylight hours recently, meaning maybe they, or I, should get out more! The full line up was Colin, Lee, DaveP, Dave (DoMTB) and Jez plus myself forming a compact raiding party on the oh-so-dry trails. I shouldn't have been surprised – I was out Thursday night around Norbury with Mark and the riding conditions were spot on then and there's been no rain since to change matters.
So starting at Holmbury YHA at 8:30 prompt (which made a nice change and gave us a bit of credit in the time bank) we headed up Telegraph by way of the parallel singletrack. Even early on it was clear conditions were perfect and by the time we'd ambled round Surfa Rosa and reached the summit of Holmbury it was time to lose the sleeves on my Gore Phantom jacket. The more I use this jacket the more I think it's the perfect answer to so many riding conditions from hard winter to days like today when my Embers merino and sleeveless Gore jacket were ideal for the cool start and quickly warming conditions.
After that we headed to Pitch via an unusual route, forfeiting Barrys for a change for a more varied route off Reservoir Dogs, eventually after much flowing fun spitting out onto Radnor Road for a whizz down to the tea shop. At just 9:30 it was too early for us to stop even though Lee made a bold claim that it was about right for elevenses. Even allowing for dodgy time keeping the fact he used the word elevenses was just a touch too mimsy for us hardcore riding dudes. Sort of.
So we dived into Pitch, making sort work of the climbs today in an effort to reach the Judges Seat via the Quarry and Two Headed Dog. At the Judges Seat Dave shamed us (and upheld DoMTB honour) by romping off the drop off before we stopped for a chat with a very bold four year old boy who seemed fascinated by what we were up to, and his mother who was lush. Happy times.
That makes a wholly inappropriate segueway into mentioning that Jenny's Hollow beckoned and some of our riders delved right in with Dave—the only one with plenty of man beans today—again showing us how it was done. I blame his bike; those Fives make you think you can get away with murder!
After more loopage which included the Bombholes, Christmas Pudding and the Ewok Run we headed back toward Peaslake for refueling via a tricksy series of switchbacks that caught out a few of us and then onto the only place on the hill with water on it. I think it's called a river, whatever it was it showed how dry everywhere else was as we all minced around in the mud and then cursed the water for getting our bikes dirty.
By the time we reached Peaslake we were starting to get low on the energy levels but time was still on our side. I got talking to a guy from Sussex MTB briefly who seemed to be liking what was on offer from today's riding and I spotted once again my alter-ego who was riding around the hills on a white On-one Inbred with Marzocchi Marathon forks albeit with a singlespeed kit on his bike. I'd seen him at the Holmbury car park and bumped into him again on the return so it was a bizarre theme throughout today.
We—OK I—struggled slowly up to the Reservoir after consuming too much flapjack at Peaslake (thank you Dave BTW) and spent a few minutes playing on the 'North Shore' that's currently up there. That's a huge overstatement of the planks that have been set up 18 inches off the ground after someone left some building materials up there and I don't expect it to stay there long. All it proved to me is that us mountain bikers can't sensibly leave that stuff alone and that I have no balance (there's some pictures us on the boards on Flickr).
By now we were pleasantly surprised to be mechnical and puncture free and on time for a before 12 return to the car park. A short blast to the Holmbury summit left us Park Life and Telegraph Road still to tackle with Park Life rolling nicely under the wheels. I was following Colin who was keeping a good speed up through there which let me pick my own line and not feel held up at all (in fact I was losing him as my concentration and energy levels had checked out).
Telegraph Road was as you expect, the final run to the car park being particularly fun as we normally turn off to head toward the other car park. That has it's own challenges of course but I was happy enough today with how I romped over the big rooty step near the end as a suitable finale for the ride.
In all, 14 miles or so and I was truly knackered. But, we were on time, leaving the car park after saying our goodbyes at about 12:05 which meant we could all claim to be back when we said we'd get back for a change. The dry conditions even meant I just slung the bike in the garage on my return! Top ride.