Ride report: Sunday 1 November – Moles in the Mist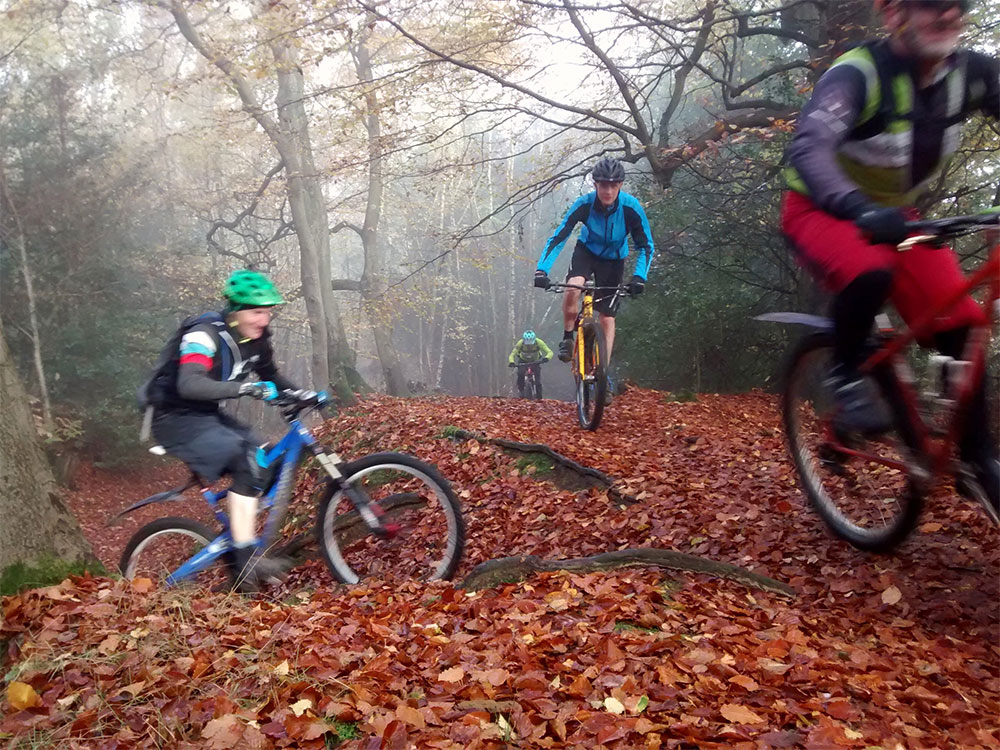 Well now here's a thing. An actual ride report, from an actual ride I was actually on today.
It seems at face value that not much Mole riding has been gong on recently but actually, our habits remain much as they've always been. Every Sunday, we go for a ride.
When I say we I mean of course anyone who can drag themselves out of bed and get to Bocketts Farm for 8:30 in the morning. Several times these past months I've contemplated it, and several times the force of the duvet has been strong with this one. Not today.
I wasn't the only one to make an effort. Andrew came up from the country to see us with his wife and daughter, putting me to shame in my level of recent commitment. Also on the ride today were Tony, DaveC, Nick, Mark, Lloyd, DaveW, Elliott, Jem and Karl, making 11 in all. Sadly, the Grand Mole remains out of action while JohnR and D'Andy are feeling the force of employer expectation.
Today was a misty day across a large part of the country and in our corner of Surrey that was pretty much the same. Our only hope was to rise above it – literally – by heading to higher ground and that's exactly what we did. Leith Hill to be exact.
We started off as many a ride will from Bookham, heading up the long climb to Ranmore. I haven't ridden with these guys for ages, but I have been riding so didn't have too much trouble settling back in. It felt just like normal.
As we winched higher we found the mist clearing in places but generally it remained stubbornly fixed in place. With no breeze and very quiet climatic conditions there was little to disturb it. Even on Ranmore the murk continued as we headed to Wire in the Blood.
I find riding at this time of year the most challenging of all. After months of firm ground things suddenly get wet and slippery, which is bad enough but then it gets covered in leaves which hide the trail quite effectively. These also start to get wet, leaving a tricky surface to ride.
With the famous Ranmore clay once more a feature then, I took it easy along WitB and picked a careful line down LandRover, finding the Five to be a stable companion today. We crossed the railway and headed to the Rookery to tackle the climb up to Wolverns Lane.
It really is months since I've been this way. I'm not sure I've ever ridden it so slowly – not by choice – without having to dab a stabilising toe down, so was quite happy to maintain my momentum to the top. Soon also we continued up Wolverns Lane to take the MarkyMark line of least mud resistance toward the top of Summer Lightning. Then is was on toward the cricket ground, and then up towards the tower.
Having come within sight of the Tower we let DaveW take us on a sample of typical Leith Hill riding, heading down the hill to Windy WIllows via some lovely flowing trails. It was a pleasure to be on the Five which continues to be a faithful servant despite its' distinctly retro spec sheet these days. It's all very well to keep current with decent forks and a 1×10 drivetrain but it gives away the benefits of larger, wider wheels and slacker geometry that is de regeur in the modern world.

Once we'd regained the Leith summit it was time for coffee and cake. As we neared the top we finally broke through mist and came out into a lovely, warm, golden Autumn day. It took a few moments to realise that we were looking down of a sea of cloud to the south and the north, with the Weald blanketed by a smooth layer of white.
After our break we started out return journey via the 'new' trail down from the Tower (does it have a name), and then on the longer man made trails down to the cricket ground. The flow was good, the effort levels quite high with plenty of enjoyment to be had. Without interrupting things too much we soon continued on to Waggledance and by the time we'd reached the end of that we needed a breather, kindly provided by DaveC who played his joker with a disintegrating front mudguard.
Having got our breath back, it was time for Summer Lightning. I had a blast, getting close to my personal best times on each of the sections despite struggling to remember exactly where it went! More fun was had further on as we hammered down Wolverns Lane to the top of the Rookery.
By the time we'd despatched that and started on the climb back up Ranmore there were plenty of tired legs in evidence and we were well and truly back in the murk. Our final choice was how to get back down to Polesdon and on this occasion we settled for Dearly Beloved, sweeping down through a blanket of golden beech leaves.
My final mileage was 25 miles which brought the total for my first five miles-a-day week to 115 miles. I'm not expecting to maintain that level I can promise you!