Ride Report: Sunday 10 April – Great ride and nasty chin job
I counted 12 Moles and true this morning, once PaulM had arrived on the scene. Leith Hill and maybe a little more was on the agenda for today's outing.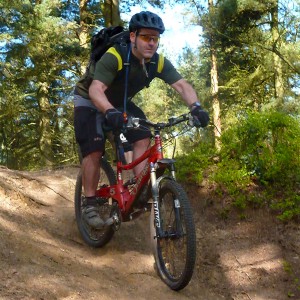 Matt, BigAl, Baz, YoungJohn, JohnR, Ray, PaulM, MarkW (yes, back in the frame), Andy661, Lloyd, Jez and myself made the first set of 12 Moles that headed off to ride up to Ranmore via the Stone Bridge descent at Polesden.
From there, a cheeky – ahem! – but punishing route took us up to Ranmore Common and then on for a bit of video action on the Landrover descent. PaulM was flying today, but conditions were top notch and there was grip in abundance.
Through Westcott and up the Rookery I took the pace down a little and rode up at an easy speed. Making a steady pace up Wolverns we were passed by several riders heading back the other way before heading into the Hill proper and seeing the results of recent woodland management. We aimed for Deliverance as I was feeling it was time to reacquaint myself with it after over a year of standing at the top thinking "next time".
The bomb holes section on the approach was quickly dispatched and I joined at the back of the crowd looking down Deliverance before BigAl showed a line (the one that caught me last time) and waited at the bottom of the next man.
At this point Keith appeared, having been out on a mini-epic himself in the good weather. YoungJohn took the downhill in his stride and then I followed with Matt, Mark and then PaulM making up the final run (I think). I was shaking at the bottom but glad I'd done it.
To the Tower we now headed via a bit of choice singletrack and BigAl doing the mini AbbaZabba on the way. Failing to make the climb myself I joined Andy661 as we pushed up the final section to get our tea and cake.
Here the plan started to hatch to extend the ride for some of us. PaulM and Jez headed back from the Tower take in Summer Lightning and head home, while the rest of us would head off to the Mother via a new take on some trails courtesy of BigAl.
Before we went though we helped Ruby from the National Trust with a questionnaire and Ray took the opportunity to make a comment – well a full-on moan tbh – about the use of non-eco polystyrene cups. Apparently the Tower refreshment franchise is up for renewal soon! Interesting exchange of views.
En route to the Mother we ran into LordOnOne with a rather nice new 29er, Specialized Stumpy! A few quick words and we were off again following BigAl on some really fun and entertaining routes that I think pushed a few of our riders' limits on drops-off because we were all in sheep-like following mode.
It took us all the way down to the end of Chocolate Jesus to realise we were missing JohnR! With too many miles gone we headed on down toward Holmbury, hoping he would meet us later. Down the Mother was the next high adrenaline run with just enough time for me to point at JamesS coming up with another group. The Five was flat out trying to hang onto BigAl and YoungJohn who set the pace down the hill.
The climb up to the cricket pitch at Holmbury was the next challenge which we all passed to find JohnR sitting at he seat waiting for us. With the trails in such good condition we decided Yogurt Pots was the next port of call and it didn't disappoint. Matt commented that he thought that was possibly his fastest run. Here we said goodbye to Matt, Barrie and Lloyd while BigAl took us via RRS ;o) to BKB.
This was the point at which the ride started to go wrong. En route there was a big down and up that crosses a major track and has some drainage channels on either side. I think I might need another notch on the rebound as I was pogo'd off the Five into the undergrowth. Bruised hip, grazed elbow and head. Luckily the elbow pads didn't fall out of the backpack. Doh!
I soon picked myself up and we headed off to finish the run. BKB started well with the promise of a great run but as I saw Andy661 pull up in front of me and run to another riders' aid it wasn't to be. We found two brothers, Rob and Richard, with Richard having an unlucky dismount including a chin/treestump interface.
Andy got Rob to call for an ambulance which lead to the normal "what postcode are you near" conversation. We decided to get the ambulance to head for Peaslake store and sent JohnR to wait there and point them up the right road while we walked the bikes and rider up there and waited.
Plenty of bikers stopped to offer help with suggestions to send a photo into to MBR and see if it was worth a prize!! Richard seemed in good spirits if a little pain but the ambulance soon arrived and we left at that point with things under control. A stark reminder to us all. Still, chicks dig scars!
We met JohnR at the Store and then the 4 of us headed back via Abinger Roughs and White Down. I got in just over 30 miles in glorious weather and feel a bit bruised sitting here now! Good ride.