Ride Report: Sunday 10 July – Matt turned up!
Sometimes the stars align and a fairly normal ride turns into something a bit more special.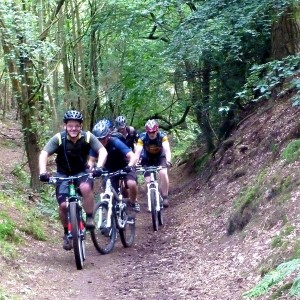 I think part of the "vibe" of the ride was the compact group, all similar in ability, jovial conversation and a familiar route.
With no strong feelings about where we should go we decided to do Newlands the classic way. Rob arrived at the car park just as I turned up and Matt turned up 3rd after much ribbing last night about the usual non-appearance after he's supped a few beers. Moles were out in force the previous evening to celebrate Jez's marriage to Louise and could be found holding court in the bar area. Kevin, Karl, Tony, Ray and JR made up the rest of the group (Ian wasn't there).
So we headed off up Admiral's Track and on to Polesden, opting to take the descent onto Hogden Lane. At the bottom I turned to go up Pamploma but Tony launched a mutiny to keep on heading up Hogden. I wasn't bothered as the Spearfish took the worst of the trail and smoothed it out but I did feel for those on hardtails. Ray muttered at the back he was hoping to wear JohnR down a bit so he could beat him up one of the climbs. I climbed at a conservative pace but the group didn't get too strung out.
Crossing the road and heading to the top of Landrover we turned right onto Collarbone and enjoyed generally dry conditions. Rob took on the log roll while the rest of use picked our way around it and headed to the Abba Zabba complex. I didn't quite mange to whole thing in one go but I did manage to do it in two halves and what a great section it is to do in that way.
At the base we took the cheeky route through the Abinger Roughs before crossing the A25 and heading onto our normal route through the back of Shere. The sand was damped down although the brambles were out in force to join the nettles, drawing a bit of claret from my hand as I tried to push one away. Next came the climb.
I soon lost track of the lead group as Karl and I pedaled steadily up the chalk climb, adopting a pace that allowed conversation to continue. This was the first test of my Deore 12-36 tooth cassette, offering me two more valuable teeth for climbing, 32:36 ratio. I know from my singlespeed riding that two teeth may not sound much but can make a huge difference and it certainly seemed to help heading up Newlands. I was initially worried about the extra weight having seem some forum chatter and while it does weight over 400g it isn't so much more then the SRAM 970 11-34 I was running. Weight is all relative after all.
Given the temperature I decided to opt for orange juice over the normal hot chocolate and we chatted about this and that as Matt took an interest in Karl's Mmmmmbop (note to readers, that's a Ragley bike, not a dance move). Matt took the opportunity to comment with disdain on Karl's choice of bars. Personally I think Karl's OK, but then he is the only other person I've met who likes Mary/Carnegie bars.
With the main part of the ride over now it was just a question of heading back along the B.O.A.T towards Ranmore, taking in the concrete dish of death along the way. With the weather being so kind there were quite a few horse riders out but all of them good natured as we slowed to let them pass. The suggestion was then made that we should re-do Hogden to get back to Fetcham. Last time some comedian suggested this I think I was on my rigid singlespeed but today I wasn't phased at all looking forward to see how the big wheeled full susser would cope.
It's never doing to be a flowing downhill as there are too many big flints and roots but I though I was pushing hard enough down there, I was aware of another bike shadowing me though and I suspected I either had Rob or JohnR on my tail. As the trail smoothed out I was able to turn my head long enough to see Ray's green top just behind me. New Reba forks and XT brakes have obviously given him a bit more "oomph" as well as a good prior knowledge of the lane.
Steadily we climbed and Ray opened out a lead on me. Some way before half way up JR flew past and I smiled and then laughed as he passed Ray and I saw Ray kick in to try and stay with him. They soon pulled well clear and out of site so I can't report as to the outcome!
JR and then Matt pulled off leaving the small group of 5 to head back to the car park. As I hinted at in the opening section this just felt like a really great day to be out riding with mates. I'm sure there's an Elbow tune to sum this ride up…