Ride report: Sunday 11 April – Leith Hill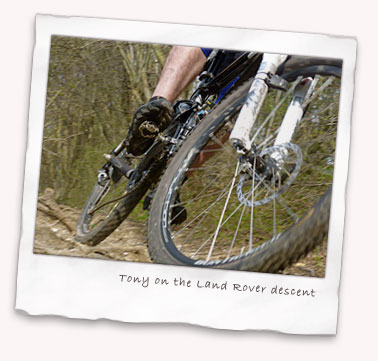 After a dry week and with plenty of warm sunshine on our backs, it was a big group that assembled at Bockett's car park this Sunday in anticipation of a decent ride across the Surrey Hills. I don't think we disappointed, with something for everyone over the course of the morning.
A group of us had spent Friday night in a group fork fettling session, putting Dave at Cyclework's advice to good use. With the dry weather I think we were experiencing a mixture of curiosity to see if the forks felt any better and apprehension that they might disintegrate beneath us.
So, there we were at Bockett's with seemingly more riders than the start of the Grand National. DaveC, DaveW, Colin, Tony, AndyC, JohnR, TonyD, (another!) Dave, Jez, Barrie, Keith, Lee and myself. We quickly decided it was a Leith Hill kind of day and off we went.
Recognising that a few riders have recently expressed a preference for the Hogden Lane climb (and not wishing to face Yew Trees) I lead our group past Polesdon Lacey and down the short descent, which I'll admit to having ridden better in the past. But it was dry pretty much everywhere and the trails were even showing signs of dustiness so having reached the bottom with no dramas it was time to start on the long slog to Ranmore.
Living so close to the Surrey Hills is a real privilege in the sense that we have access to some great local trails. But even so there's some that I prefer more than others. Hogden Lane, in all it's flinty, spiky glory is not one of my favourites by a long shot but it does at least get you to Ranmore where the fun can start. I guess it does provide a decent workout too if you like that kind of thing.
DaveC and I both wanted to get some photos and video today after too many unrecorded rides. It's not that we're trying to capture everything we do but as they say a picture's worth a thousand words and it only takes a minute or two once you've got into the habit. So, we headed off down Land Rover, stopping halfway down to photograph (on Flickr) and film (on Vimeo) the action.
Well, first off, an unprepared (another!)Dave nearly disappeared straight over the bars as he was next down and encountering the rooty steps for the first time I think. After a narrow escape the others followed with Tony nearly running me over and bandy-legged Colin kicking up the stones too. What became clear was my viewpoint was far from ideal as a large bush obscured riders approach but I never realised the extent to which everyone seems to veer over to the right of the trail over these steps. I always tend to the left…!
Continuing onward our next obstacle was upward, hauling ourselves up the Rookery climb. It's no longer a technical challenge but it still takes a toll as riders spin or grind their way to the top. After catching our breath we picked up Wolverns Lane which to my mind is one of the nicest ways round here to gain altitude as you dip in and out of the trees. Spring is the perfect time before the undergrowth has encroached too much and we made steady progress toward the start of Summer Lightning.
At this point our ride group expanded further as we met James on his retro old skool Raleigh classic with its one-inch quill stem, seven speed block and V-brakes. Perhaps a step back too far in time? Anyway, James had turned up late to Bockett's and had somehow managed a rapid tramp over to Leith Hill to get there before us. Quite how he did this I don't know as I'm pretty sure we weren't hanging around that much but maybe those photo sessions took more time than I realised?
We soon took a few more and Dave managed some video at the bombholes which you can see on Vimeo. As you can see it's still early days in terms of camera-work but we did capture Lee narrowly avoiding a comedy dive into wet peat. Dave also captured three of us having a go at Deliverance, with DaveW showing no fear, Andy taking no prisoners and me being a little more circumspect and (I like to think) at bit more under control. I don't often try Deliverance as it's a long way down and things can go wrong but today it was clear and dry and I didn't think the conditions could have been better for it.
Having dispatched Deliverance we headed for the Tower and tea and cakes. My amateur efforts to pump the trail down to the Tower climb yielded a certain amount of success but soon we were heading uphill. My achievement at cleaning the climb on my singlespeed was not going to be threatened today and I ended up walking for a few yards in the middle. Overall though, not bad and we were soon tucking into Date and Marmalade cake.
Returning, it was time for the group to split as Jez, JohnR and (another!)Dave took a more direct route back after we'd all ridden Personal Hygiene. The rest of us returned to the top of Deliverance before passing it by and heading off to Waggledance. A number of us found staying close to the rear of others harder than it sounds (Colin!) but Waggledance offered it's usual mix of effort and reward as I followed DaveC. A clearly faster Tony was right behind me, taking advantage of his full-sus and a return to his pre-collarbone break form I think.
Summer Lightning was next and we all shot down it as it's in great shape. I always find the berms at the top disrupt my rhythm initially but by the second section things were flowing. Excellent!
To get off the Hill we decided to head toward brick alley, a new one for some but just a different way of returning to Westcott via some singletrack fun, some XC trails and a couple of cheeky footpaths which bring you out behind the old Nirvana shop. The singletrack was excellent fun as I nailed the whole section at high speed, even managing to stay focussed down the narrow gulley.
By now in Westcott we needed to get back up to the top of Ranmore with someone suggesting the MacPherson's climb. It's not my favourite but it's a challenge and you can grind most of it before the boys are separated from men in the final third. I was definitely adolescent unfortunately, but not surprising given the singlespeed I was on.
The final descent of the day saw us heading down to Chapel Farm from Ranmore Church with DaveC and Tony upfront enjoying their gears. I was in pursuit but lost them on the flatter sections where I could hear someone catching me behind. As we neared the final section I realised that perhaps that fork service (and air pressure top-up) had been successful after all as the bike felt superb. A nice clear line, a sweet-tracking fork and confidence in my Elixir brakes saw me carrying a huuuge amount of speed through. I was buzzing by the time I reached the bottom!
Which left the final 'climb' to get us back up to Bockett's. I dispatched half on foot before it levelled enough for me to put in one last effort before home. All in all, a terrific morning's riding, covering around 22 miles or so. I hoping, as we all are I'm sure, that this is the start of a prolonged spell of ideal riding conditions. We've waited long enough after all!