Ride report: Sunday 11 November – Remembrance ride
After having a virus for nearly 3 weeks I ventured out this Sunday to get the pedals turning again.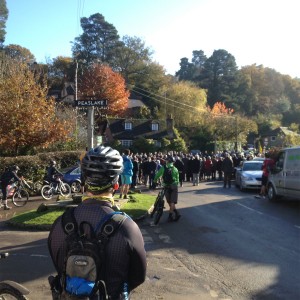 I met with KevS, BigAl, Lloyd, Elliot, Mike and JR. There was a plan to ride to Peaslake but via Pond Lane. All tracks we'd done before but not necessarily in that order! IN fact for the first hour or so it felt more like a Newlands Corner ride.
Anyway, with 4 Moles enjoying trails in North Wales there were 5 recovering Moles in the group today. This lessened the overall pace but I still found it a huge struggle as the longer hills ground down my depleted stamina. On the plus side we had a beautiful day as we headed down White Down in the Sun we encountered several photographers making the most of the slightly misty, low Sun light to add interesting affects to their photos.
We kept it simple and Elliot had the route in his head so we were just happy to spin the wheels. BigAl was spinning his new On-One Lurcher with On-One Rigid forks weighing in at around 21lbs for a 29er carbon single speed. By contrast Elliot was on his "steel is real" Singular Swift 29er which probably took the prize for prettiest bike but Al's already had one of them!
Anyway, Pond Lane was it's usual mix of difficult sand (doesn't matter if it's dry or wet) and newer dressed surface. This led onto the section into Winterfold that I call the "river bed" and anyone who has ridden it will know what I mean instantly. We climbed up and took in Ewoks, heading a little off piste before riding "John Webb" into Peaslake.
Here we realised we had about 20 mins before 11am and a congregation was gathering at the War Memorial. Managing to grab some refreshments before the village store closed we stood outside the Pub and observed the 2 minute silence with many other riders as well as locals. Quite a moving experience.
We made our way back to Ranmore the usual way via Abinger and up Low Med before riding down Dearly Beloved. All in all a great day with great riders, weather and tradition.