Ride report: Sunday 12 April – Swinley Forest

So we finally made it en masse to Swinley after a couple of reconnaissance sorties in the past few weeks. The advance raiding parties brought back favourable reports, tempting 12 of us to get up ridiculously early on a Sunday morning to get there (and back) at a reasonable time.
Now I may have got a bit confused on the names side, for reasons which will become clearer later on but I think we had Dave, Colin, Lee, Mark, Jem, DaveP, NickB, Graham, Andy, Nick (easynow), AndyC and myself starting today's ride, a surprisingly good turnout. And you read that right, for the first time in a long time we had Dave, Mark and myself together on a daylight ride, the three (sort of) founding members of the Muddymoles.
I think everyone was startled at the early departure from Bookham (7:30), you just don't want to see these guys first thing in the morning! Lee was looking as if he wasn't sure what planet he was on, let alone whether it was morning, noon or night as his firstborn is now 12 days old and the broken sleep is starting to really kick in.
That was nothing however compared to myself and DaveP who were both below par. DaveP seemed to be lacking that crucial second lung, recovering from a nasty cold and I was, well paying for a weekend of excess. Unfortunately it wasn't the kind of excessive weekend I'd choose as much of it had been making further inroads into my 35ft Leylandii hedge in the back garden. Getting one of these on the ground is straightforward enough, it's just chopping it up small enough to fit in my car to take to the tip that takes the time!
So I reckon I was knackered from that, possibly with a bit of sunstroke thrown in. Oh, and completely unrelated (of course!) I'd had 'a couple of glasses' of wine the night before at Dave's! I was feeling rough I don't mind admitting but was hoping to improve over the ride – I even had a few slices of malt loaf ready to top me up.
Well, that was hoping… as the ride wore on I wore out, more and more quickly until I was almost on my knees, a tricky job on a bike. Lee reckoned I was heading for a conversation on the long white telephone but I was just drained and struggling to concentrate. Eventually DaveP, Mark and myself bailed out (as originally planned) and I have to admit the couple of miles on the fireroad back to the car park were the longest I've ridden for a long time. By the time we got back I had a thumping hangover cranked up to number eleven and was seriously thinking about just getting off the bike and crying. I'd reached the point where I had a massive sugar bonk but no capability to eat or drink to combat it.
As it turned out, it got worse and by the time I got home I was looking extremely green according to my wife. I went to bed and didn't get up until about four o'clock. On a day when I was hoping to make my bike meow it was depressing to find it was me under the blankets making faint mewling sounds instead!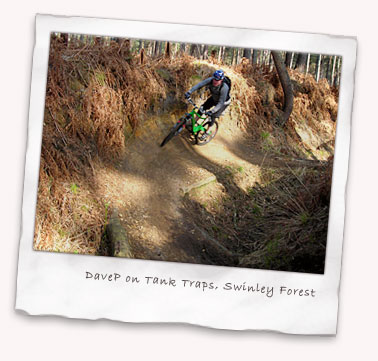 But enough of me. The ride still covered 12 miles of fantastic, intense singletrack and the bulk of the group would have added a few more after we left them. Swinley really is all our advance scouts had told us it would be, full of well drained soil, short sharp ascents and descents and a maze of well planned if a little ping-tastic man-made routes.
Highlights for me were Tank Traps which we did twice, my line choice through the gully no better for doing it a second time. I really made me think my Inbred, soon to go properly singlespeed, was not only the ideal bike for the trails but also needed better braking than my old Hope Minis could offer as you really want to be able to stand on the brakes at times. At others, the trick is to learn to trust the berms which are placed to give faster riders maximum advantage by helping the flow. If you're too slow you just find yourself feeling like a pingball!
Basically there are miles of clever trails that loop back and forth within a tightly contained area to keep the MTBers away from other users of the forest. Someone has clearly spent a lot of time planning and building these trails and I'm mighty appreciative for that.
Another eye-catcher was the jump gulley where there's several jumps, tabletops and doubles for people to ride. You can roll it all or try a bit harder and we spent several minutes looping round for 'just one more go'. If we did that often enough we might actually improve!
Moving on from there we continued through the maze of trails, all of them proving to be highly entertaining. It's the sort of place that I know I'll never fully map in my head and as this is my first visit and I was feeling rougher by the minute I can't say with any certainty where, what or when I rode anything!
What I do know is we reached the Labyrinth and it is fair to say it earns it's name. There has been a lot of hard work put into this, we rode it twice and were surprised at how well the berms draw you through the deep forest. It's not very technical as such but it is very rewarding as you get more familiar with it. There's sudden short climbs as well as the trail loops back and forth obscurely through the trees. You catch glimpses of riders you know are a good minute ahead of you but it takes a while to realise the trail has doubled them back on themselves until you too find yourself doing the same.
After the first run we bumped into Jim and the guys from Sussex-MTB who recognised us presumably from this site. Always strange when that happens but also welcome and it was good to catch our breath with them briefly. Sorry I didn't chat for longer but for reasons explained earlier, I was just starting on my nose-dive to ignominy by then!
We looped round to try the Labyrinth again which took us up a sharp fireroad climb that I could have done without. This time round we disappeared down a highly entertaining jump area which a man of more skill than I may have dispatched with an air of easy nonchalance. I dispatched it with the air of a pensioner in Tescos but I could see the appeal!
After that we headed back toward the car park, covering what to me were feeling like miles of potential accidents as my concentration and energy rapidly ebbed away. I just wanted to be home by that stage.
But that's not a criticism of Swinley, just my poor alcohol management. We'll be back regularly from now on I'm sure as the journey itself proved simple, parking easy and the trails highly rewarding. Swinley more than lived up to my expectations and seems to offer plenty for everyone.