Ride report: Sunday 12 March – Frensham Classic

By the end of Sunday's ride, only one picture really summed up the day.
There's so many captions I could have made for this image. Picture posed by models perhaps or He does all his own stunts? Maybe Where's Karlos? or even Not the D-Day landing you'd expect. Fortunately no harm was done other than an impromptu landing for Karl, so we can all laugh.
The rest of the ride was a lot more straightforward, even if earlier on the drop down from the Devil's Jumps on Rushmoor took a little noodling to get down safely, especially on my Pace. Actually it felt great but rewarded a little concentration at the time.
We decided a return to Thursley was in order this weekend on the basis that the trails everywhere else would be a washout after a week of rain and at one point, snow.
In fact, we were out Friday night around Headley and Mickleham and while it was wet on top the trails were holding up reasonably well. My recent claim of a winter of soft trails rather than wet trails just about held true.
Even so, no-one was really in the mood for mud and slop on Sunday and by then we had already decided to swap Ranmore and Reigate for the reliable sand of Thursley. What a good decision that was.
The idea drew what constitutes a crowd for us these days given some of our ride buddies struggle to make Sundays. Can't be bothered to climb out of bed is one excuse I've been known to employ myself. Social engagements involving golf is an outlier but effective (although not one I'd use). Family duties or vehicle availability are both sometimes unavoidable. 'Holidays' in Rome etc.
As it was, eight of us found time in our schedules and I met up with Lloyd, Tony, Elliot, Reece, DavidS, Karl and MarkP at Thursley cricket ground for our classic Thursley/Hindhead/Frensham loop.
DavidS is a relative newbie to the group while Karl and MarkP need no introduction even though I don't think I've ridden with them for about a year(?). It felt too long in any case.
First off out of Thursley is a long climb up to Hindhead – Strava makes is about 3 miles – and it certainly gets the blood moving on what in places is a steep and rocky climb.
Within about half a mile I realised I'd forgotten my water bottle which I had loaded with a tactical caffeine tab and promptly left in the car! This was a bit of a worry for me as I had quite a headache at the time from stiff shoulders and my only remaining option was to filter water directly from the air like Elliot does. In my case, I was filtering it the other way as it was so mild I was a little overdressed.
The headache took the edge off the first half of the route but there were still some nice highlights.
Just past Hindhead we picked up a nice flowy bit of singletrack which provided a chance to see how the Pace was feeling in its new configuration. Very nice was the answer, it actually felt quite comfortable despite lots of rattly roots.
The long run down toward Rushmoor (aka Elliot's puncture zone), which is a rocky mess at the best of times was also surprisingly good even if I sensibly calibrated myself to be not-as-fast-as-the-full-sussers beforehand. I am really starting to like the Pace!
Up on Rushmoor we started climbing. It wasn't the hilliest ride today but we still found 1600ft of elevation in the 19 mile loop. The Devil's Jumps summit (or Boy Band Photo Op as we call it) gave us a short chance to get our breath back before the drop down to Axe Lake I mentioned earlier. It's seen some washout of the sandy hillside and so line choice can be a little delicate but there was plenty of grip and I enjoyed the descent hugely.
Then it was across Rushmoor toward Frensham, dodging the many horse riders who were out on what looked like a kind of horse based orienteering effort. There were loads of them, but on the whole they were quite affable.
Still, I was nursing a rather unpleasant headache but the prospect of bacon rolls at the Great Pond hung before us, so I hung on.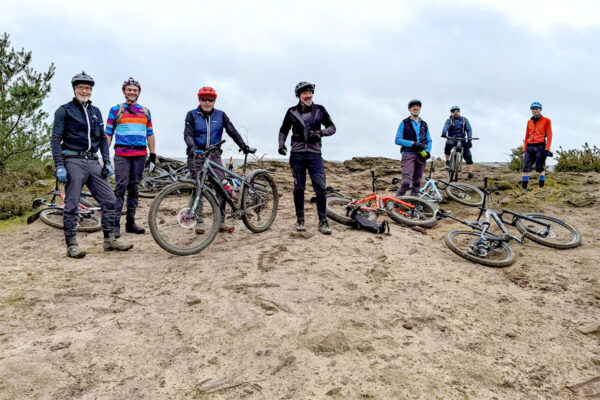 At the cafe, I noticed a couple of things.
First, front of house has been greatly improved by shutting the irrascible food preparer (let's not say cook) in his own kitchen area, leaving the friendly girls on the counter to organise who wanted what. Today was enhanced even further because the guy wasn't working anyway!
My second observation was the prices have gone up. Damn that cost of living thing! My roll, if I'm being really critical was a fraction smaller too.
Most importantly though the stop gave me the chance to order an Americano with an extra shot in it and miraculously in the space of about 15 mins my headache started to lift. I'm not under any doubts about my caffeine requirements (hence my angst at forgetting my water bottle) and the day before – for one reason on another – I'd missed the chance to 'top up'. Don't underestimate the power of caffeine withdrawal!
Meanwhile, in a way that became pertinent much later, Mark P was trying to work out why his brakes were making this weird sort of metallic sound. A quick inspection suggested his pads were fine…
The caffeine boost meant that I was in better spirits for the second half of the ride and in fact I think we were all enjoying the large group and relatively easy rolling. I say relatively, because there were plenty of sharp climbs in there and the sandy surface suited no-one apart from Lloyd on his fat bike. As is often the case these days, once those wheels get rolling he's hard to catch!
But at least it felt like Spring. A nascent, weak, half-formed Spring at this point, but there was definite hints of better days to come.
By the time we reached the car back at Thursley were were all panting from a fairly quick run in over the soft sand.
While we watched Lloyd clean first his bike, then Tony's with the ultimate Surrey accessory, a Mobi washer, Karl, Elliot, MarkP and myself resolved on decanting to the Three Horseshoes up the road for a pint before we headed home. The way Lloyd was feeling I suspect he might have been willing to take our kit home and stick through his washing machine too, but we had more pressing things to consider before the pub.
Remember I mentioned MarkP's brakes?
Well, he was still trying to work out what was going on. On taking his wheel out of the dropout, we were able to help him. One of his disc bolts had worked loose and had been munching its way through his fork leg on each wheel revolution! It's not clear if this was the effects of one ride or many, but the resultant groove was getting on for 5mm deep! So check your disc bolts folks!
Thanks to Karl for standing us the round in the pub, it really was nice to share a pint again and a great way to end the days riding. Lovely too to see everyone out enjoying themselves today and with the equinox looming I see more pubs in our future! Win/win.