Ride report: Sunday 15 February – Bookham to Leith Hill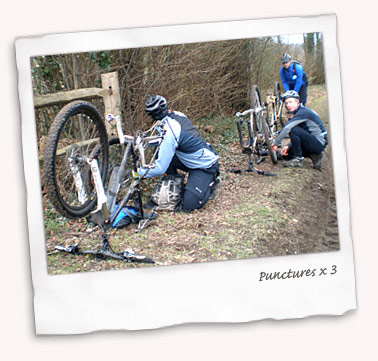 As I stood at the junction with Ranmore Common Road and the track to Yew Tree Farm and saw it had gone 1pm, I knew it had been an 'involved' ride; my legs and lungs were telling me that on their own whilst my GPS was just rubbing my nose in it. Today's ride had certainly been an adventure and wasn't short of incident, or sadly punctures, but more of those later.
By the time I reached Bocketts Farm for our 8.30 meet time, I realised that although we had lost the Spring-like sun of the previous day, the overcast conditions had left temperatures comfortably above freezing and I knew I had definitely over-dressed for the occasion.
Rob, sporting a rigid On One 29er, was waiting and we were soon joined by Tony, Jem, Dave, Jez, Toby, Colin and Nick. As the phrase goes it truly is a small world as it didn't take me long to realise that I last saw Nick circa May 1998 in a business studies class at university in Canterbury. Pleasantries exchanged after all these years, we set off cutting the usual line over to Polesden Lacey and up the Yew Trees track to Ranmore.
We had barely made it onto the road to Polesden when I felt that unmistakable snakey feeling of a flat. Pulling over quickly, I was joined by Jez and Rob who'd also had come under attack from 'Hitman Hawthorn'. Pitting so early wasn't in our pre-ride strategy, but the brief respite also gave Nick a chance to sort out his rear mech, which had missed its morning's dose of Ritalin as it skipped manically across his cassette.
With thorns extracted, tyres inflated and rear mechs sedated, we made swift progress up to Ranmore, where group consensus saw us take on the ever lively Landrover descent, and onwards across the railway line and over towards the A25.
We ploughed on up Rookery, veering off onto the bridleway, which takes in the short sharp stepped climb to Wolverns Lane. This particular ascent looked more than ever like it was suffering from recent rainfall (and traffic) as the gulley down the middle continues to widen towards the edges of the trail leaving little 'flat' ground on which to maintain traction. And it was a distinct lack of the latter, particularly over the damp timbers, that left a few of us with no option but to push it up the slope. By the grace of MTB deity and a firm TdF-style shove from Tony (albeit he wasn't dressed as the Devil) I managed to clear the climb, where we recovered at the top and gave Rob a chance to fix another puncture.
We licked along the holly lined trail adjacent to Wolverns Lane, and bar a rather spectacular tumble from yours truly, on the steep section as you rejoin the trail from the Lane, we gathered safely at the crossroads above Broadmoor. We climbed steadily on the well drained ground, past the entrance to Summer Lightening, before switching back up to the bombholes above Deliverance. The final bombhole in the sequence was a bit too much for Tony, who simply didn't have the speed to exit, which did for Dave too who was following close behind and was left with no option but to put his feet down in the gunge at the bottom.
We flirted with Deliverance, watching a 'kid' on a downhill rig making it look easy, but instead we tracked over to the cricket ground and the safer play area there, before heading over to the Tower for tea and cake.
Bodies refuelled, we said goodbye to Rob and Jez at the Tower, while the remaining seven of us saddled up and headed down to take in the myriad of twisty trails and bombholes that form much of the landscape between Tower and Leith Hill Road. Criss-crossing the main bridleway, we ended up at the Quarry, via a series of twists and drops, the final one of which did for me as I took the wrong line into it, having seen Jem effortlessly launch into it. Next time maybe. At the quarry we messed a round a little, with Colin, on his new Dialled Alpine, and Nick taking on the smaller of the two jumps.
Climbing back to the Tower, up the more straightforward and well trod bridleway, the air was soon filled with shouts of 'personal hygiene'. Rather than being an attack on anyone's sweat issues, it was instruction to veer left at the Tower and take on the aforementioned bombhole, which was steep and fast, very fast. And easy to disappear over the top if you don't brake…..!
Back at the cricket ground we again tracked through the play area and back to the bombholes above Deliverance, the last one of which again had Dave beaten, but this time through his own lack of momentum which saw a rather funny sequence of him coming to the end of his intended trajectory before going backwards down the slope before a rather swift exit off the back of saddle to stand. Sixes from all assorted judges I think.
Rather than flirting with Deliverance again, we gave it the big elbow and squelched over to Waggledance, but not before, on the rather wet run in before Regurgitator ends, I managed to have my final off of the day. Following too close behind Jem, he slowed through a fairly narly section with large branches and a big tree stump in close proximity. With my weight too far forward I realised I was going over the bars, and worse heading for the stump. I actually managed to unclip from the pedals and somehow leave the bike on the trail and make a running exit off stage right; my momentum taking me down the hillside into the trees. Close.
With Summer Lightening calling (not to mention my wife), we summoned up energy from our reserves for one final flight down some fine Surrey singletrack. Retracing our tyre marks thereafter meant that was largely it in the way flowing trail, perhaps with the exception of the final descent down Wolverns. From here we took the trackway back up to Ranmore, which split the field as weary legs began to burn for a few of us, myself included.
From here, those with waiting wives and other commitments made haste to homes and cars as time was most certainly ticking. Passing the set of Midsomer Murders in the car park at Polesden Lacey, made me think that if I wasn't quick myself there'd be one in my lounge pretty soon.
All in I covered 26 miles, which must have meant around 24 for those starting from the car park, and whilst that's a good ride for us normally on a Sunday, you really feel it when we knock and ask Leith to come out to play. This was a really great ride (Leith Hill ride photos are on Flickr), with excellent company as ever and makes you glad we have this kind of entertainment on our doorstep.