Ride report: Sunday 16 March – 2 hills mashup
So, today Dave fancied going large on our route and suggested heading to Peaslake plus a bit further.
I should have realised the danger when his forum proposal included the suggestion that we may (or may not) stop at Peaslake for refreshments.
Maybe it was the sunshine that lured us all in, naively thinking he was joking. As expected we had a good group starting the ride, including Karl, Kev, James, Tony, DaveW, DaveC, a remarkably early JR (whom we met en route) and myself.
The weather, even first thing in the morning was warm and sunny with barely a breeze disturbing the bright air. As I knew well from Wednesday night, the trails are just the right side of dusty (how did that happen?), with plenty of grip and no undergrowth to deal with yet. Perfect, really.
Things didn't stay perfect for long as DaveC face planted spectacularly within a mile of Bockett's, taken out by a hidden branch while trying to negotiate yet another bit of fly tipping. I was just behind him and boy did he go down hard, one second upright, the next slammed into the ground amid discarded fence panels and posts.
Fortunately nothing was broken but it wasn't an encouraging start.
After unclipping him from his bike and standing him up the right way we continued up to Polesdon and from there to Ranmore, dodging the first of the seasons' Duke of Edinburgh hikers, of which there were many today.
Today was a day for picking up men in the woods (!). First of all we found ourselves travelling with Chris and Clive who were heading in the same direction as us and invited to tag along, then as we headed onto Badger Run and Collarbone Kev got a sniff of a couple of riders ahead of us and gave chase. While enjoyable, it meant we all – Lemming-like – put the hammer down to pursue a couple of reasonably quick riders for no apparent reason other than the fun of it. Some of us were to pay for that early exuberance later in the ride.
The pursuit lasted until the top of White Down when everyone stopped for a brief chat before an enjoyable run down White Down toward the valley floor. Not wanting to interrupt our flow we continued on with only limited stops to Abinger Roughs and then down Raikes Lane to the farm. It was a pleasure to be out on a golden spring morning but not everyone was feeling strong, with Karl and James both feeling out of sorts.
The Paddington Farm climb was dispatched next, a necessary evil to get to the fun stuff and pretty soon we were riding toward the Youth Hostel. Joining the road I very nearly put my foot down on a very much dead (and bloating) badger, thankfully avoiding it although I hadn't even noticed it until John pointed it out. Then it was up on to the Hill.
Rather than ride up the road to the YH car park, Dave suggested 'Al's favourite' which is singletrack that takes you up to the Babes in the Wood corner. I suspect Al prefers it heading the other way. This nasty little climb proved to be steep, narrow and rather long and other than the opportunity to experience extended suffering I'm not sure I can see much merit in it. I'm joking! It was fun! Kind of…
We were planning to pick up the Telegraph climb (parallel to the main Telegraph Road trail) but missed the start so spent a few minutes on a fireroad before ducking back into the trees to rejoin the final part of the climb. Wow! It was getting pretty warm by now and the chaps at the front were pushing along quite steadily. It's hard not to when even the uphills are running pretty fast but the downhills were much nicer. We wasted no time in heading to Yoghurt Pots and steaming down.
Yoghurt Pots has become a pretty nice trail, albeit with some staccato braking bumps in various places, most noticeable toward the end where riders get tired. It's a proper 1-2 minute workout and with a clear trail ahead of me I was pleased to PB. It's weird how fast the Kona manages to be on skinny 2.0 MudX tyres when my Five manages to feel faster but is not always quicker. Maybe things will improve after my Five makeover.
Our exuberance continued on to Barries, despite Karl showing the ominous signs of bonking. James, Clive and Chris had to leave us before that, thanks to the various demands of energy and time constraints.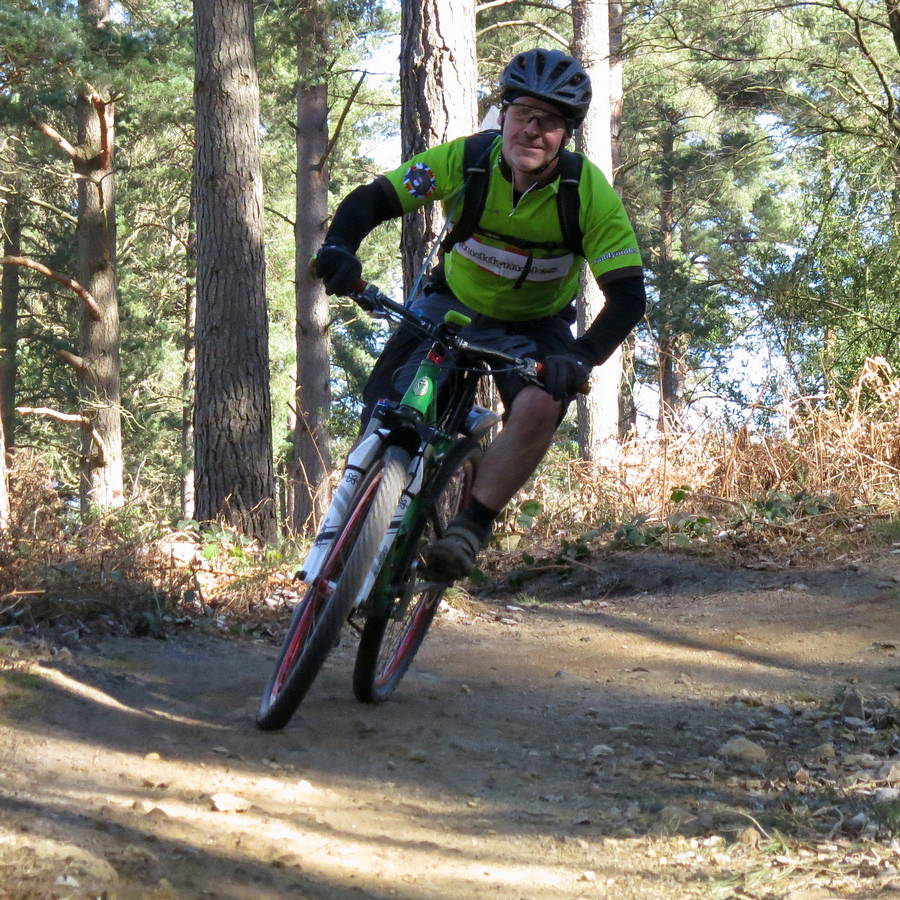 Barries was also running extremely fast and Tony tailed me as we tore down with another clear trail ahead, and another PB notched. Time for some fatter tyres I think as those Flow rims are seeing a bit of abuse!
Having ridden hard to this point one could reasonably suppose that a stop at Peaslake for some coffee and cake would be on the agenda. Dave was having none of it, which I have to think was very brave! His plan was to head up to the Windmill then Ewok it back toward the back end of Shere and try the tea shop there. The only difficulty really was surviving that far with a wobbly Karl and many of us looking longingly toward the Village Stores as we passed. Even a quick meet up with Barrie and his days' victim enjoying the sun outside didn't deter Dave, so it was with some reluctance that we pressed on.
In hindsight, I'm going to suggest a new philosophy based on John Lewis' famous slogan – 'Never knowingly pass up cake'.
But, for today we had passed up cake. Feeling – if nothing else – hungry, we headed up onto Pitch in the face of whole hoards travelling the other way. Boy was it busy out there today.
As Dave had planned we headed up toward the Windmill, in the face of an absent Al missing one or two side trails that we probably didn't have time for anyway. Near the windmill we turned north, heading hopefully for Ladies Legs and Ewoks. Our navigational guidance suffered a few glitches as some of the trails appeared to have either been trashed or we failed to pick up some key landmarks, which meant a little confusion. Being out in 20° weather with the sun on our backs meant I wasn't too worried where we went but with Shere our focus, pretty soon we were splashing down River Lane.
I'm pleased to report this is where most of the recent rainfall appears to have accumulated and also that my SKS rear mudguard works very well. The purchase of this 'guard recently is my talisman for continued dry weather from now to December and I'll let you know how that works out.
Around this point John left us for the attractive idea of a long pub lunch with his family who were fortunate to avoid having to entertain the rest of us as well, as it sounded a great idea. Karl by now was being administered intravenous gels and having dried apricots and prunes foisted on him in an effort to keep the poor chap rolling. At times like this we really should have smelling salts with the odour of cheese straws to help revive flagging riders.
Finally – finally! – we made it into Shere and thence to Ye Olde Sandwich Shop. This was my first visit but the Moles have been here a few times recently. I had a nice chocolate hazelnut brownie (and also scoffed the homemade chocolate chip muffin my wife had made the day before from my backpack), but the coffee was execrable. No umm, coffee taste?, scaldingly hot and too milky with no volume to the cappucino 'foam'. I'm pretty sure that can be improved.
The irony of a chap like me (who like the rest of the UK had never heard of a cappuncino before about the year 1999) is not lost on me. Nevertheless, I've had good ones, and I've had bad ones and while the location and cakes have potential I'd like to see some coffee upgrades. In keeping with the latest bike tyre trends, full fat is the way to go of course.
Still, refueling is refueling. It was very nice to stand in the sun and watch the gorgeous (and not so gorgeous) people of Surrey swan around in their fancy cars hunting down Sunday lunch which their morning of reading the Sunday papers had surely earned them.
I also got into an interesting conversation in the shop with a local horse rider who is concerned about the new trail up near Leith Tower. She was pretty even handed with her views and we had quite a chat, with her (and her friends') main concern being safety for her and her horses. I have a lot of sympathy for that and take the view that the main priority in that location should be to move riders away from the Tower safely (safely for other hill users that is), saving the fun and games for quieter areas. Summer Lightning and Waggledance have been very successful in part because they keep us riders away from everyone else. Just my view of course.
The first mile or so of our return from Shere showed that we had a few miles under our belts, a few of us groaning with tired legs before we got back into the swing of things. After that it was plenty of easy rolling miles, with many of the walkers and riders we passed sharing a cheery greeting with us. Must be the sun. We reclimbed the Ranmore ridge via High Med, with the sun cooking us gently on the south facing slopes.
At the top, after a short debate we thought we'd try Dearly Beloved but while it is running quite well and any mud can be easily circumvented, the numerous fallen trees (some of them monsters) were not so easily dispatched without a bit of off-trail meandering. There will be no PBs down there his year! The final yards have also been treated (and sanitized) with compacted chalk, an interesting approach.
Back to Bocketts then, after about five hours (yikes) and 30 miles up. A terrific day for it.
Many thanks to John for the photos, more of which can be seen on Flickr.