Ride Report: Sunday 18th April – Brockham/Leith Rollercoaster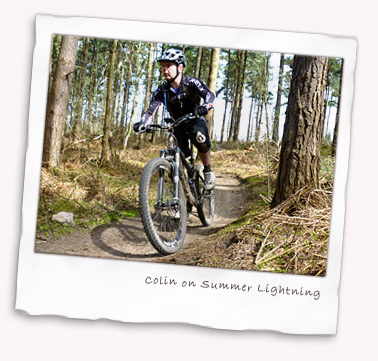 When the weather's this good, you just gotta make hay and after a superb (though much too rapid and exhausting) night ride on Wednesday, I was chomping at the bit to get out again and put myself forward as route planner for today.
Even if I say so myself, what transpired was a sensational route, one to sort the men from the boys.
In those terms, I was something like a late adolescent (I wish!) as by the time I got home, I was shattered, but it was one of those situations where the aching muscles at the end of the day simply act as a pleasant reminder.
So Matt, DaveC, DaveW, NewTony, OldTony(!), Adam, James and Andy661 turned out and as a nice surprise, the Dorking Cocks, aka George, Charlie and Toby also joined us, though they admitted they were just checking out our speed and fitness for the D2D re[grudge]match at Thetford in October!
Once again, I opted to ride the Pitch today. Quite deliberate as I had planned the route. Thankfully, James had opted to leave his old skool steely at home and was on his Spesh full susser, saving me the guilt of taking him down the Brockham Blast.
A quick blast on the Bocketts singletrack to warm up was followed by the climb up Alsatian to get the pulse going. Having worked hard to gain altitude, then we plummeted down Chainbreaker and went back up High Ashurst. If ever the conditions were right for me to pop my long overdue cherry up here, it was today and to my surprise I finally got this monkey off my back, though I nearly expired in the process, blaming my heaving chest on volcanic ash inhalation when we stopped at the summit.
Same drill, a climb followed by a blast, being Matt's favourite (he's not right) in the shape of the gnarly boneshaking drop to Brockham. Full suss helps I suppose but its still bloody hard work this one.
Then the rollercoaster effect stopped for a while as we made our way from Brockham to Holmwood via some really nice XC sections and a little road work, managing to get road rage from far too many motorists. Thoughts of buying a road bike rapidly parked after today's experiences!
Then the aptly named Folley Lane took us back into proper mtb mode as it turns into the bridleway climb up into Redlands Woods. I really like the imposing view here as the hill fills up the horizon and you know there's only one way – up.
Once at the top and after some recovery time, we then found some of the sublime singletrack and whoopy bits that make Redlands so special, taking in Man Friday and Cream Egg as we headed over to Coldharbour, past Deliverance (tackled by action man DaveW and Charlie) and up the rooty climb to the tower, which I cleaned again. The teastop added considerable time to the ride but there was no way I was going to incur the wrath of DaveC by planning a route sans calories!
Having had our fill, it was time to head back quickly – a few of us were already making our reservations with the doghouse so we notched off Waggledance and Summer Lightning then flew down Wolverns and the smoothed out Rookery.
With Andy661 feeling the heat, DaveC kindly paired off with him at a more sedate pace whilst the remaining bunch headed up Ranmore via the Pilgrims track where the sun really started to warm your back.
So, a bit of everything today, 32 miles for me and my gps reckoned 1400m of climbing (not sure how plausible that is though it feels absolutely true as I write). Great bunch, good laugh, fast descents, hard climbs, superb weather, trail dust to accompany the volcanic stuff and nice to see some lovely ladies out enjoying the weather, particularly the one on horseback on Leith Hill, marvellous!