Ride Report: Sunday 1 July – Normal bars
I'll get to the title explanation but first a photo of Karl, or is it? Speed was in the air today but maybe Karl was the air?
Six Moles turned up today, myself, Karl, Andrew, PaulM, JonH and Lloyd, for a Leith Hill ride with some of Big Al's parts thrown together. Well with six of us I was sure someone would find the path.
My 17″ Five is fitted with, shock, horror, normal FSA riser bars. First time I've ridden a bike of my own with normal bars for about 4-5 years having been a convert to high sweep bars like Mary, Carnegie and also for a couple of rides some Fleegle bars. I'm not convinced the move back is right as my shoulders do feel more tired than normal but happy to give it a go.
We set off towards Leith Hill taking in the Two Bridges and Yew Trees on the way to tackle Landrover. I tanked it down in order to get some photos but the light wasn't great and there is a bit of speed blur, although Karl was obviously caning it!
The usual route up the Rookery took us onto Wolverns Lane and up to our normal meeting point. I'd decided to bear right at this point and follow JonH down the twisty and loose bridleway almost stacking it on the last corner as I really should have been concentrating on my line and not his!
We took a majority decision for the next right hand turn and climbed up to where we were faced with a fork. After some discussion we took the left fork which proved to be right and I soon spotted another right which I think is the end of Windy Willows but certainly has two potential jumps in it. Popping out onto the main trail we climbed again to try and find Deliverance 2 but not the Swing of Death.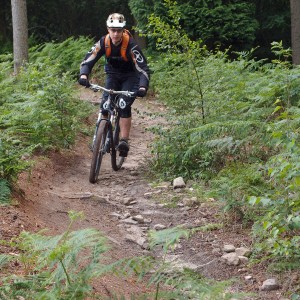 Again finding a little clue for the little grey cells to work with we headed off road and through some singletrack with Jon right on my tail. A correct sharp right had me fumbling for the dropper release and and interested cry from Jon behind as we enter Deliverance 2 via the sharp little drop and then onto the descent itself. At the bottom Jon passed me with a  quizzical smile and even Lloyd wore a grin. I don't really think it deserves the name Deliverance 2 but it could still bite.
Climbing again we started to encounter runners on a 10k and opted for an unknown left but eventually found a section I recognised but usually ridden the other direction. Picking our way through it we passed a guy going some jumps before popping out onto the main trail from the tower. It was a question of timing our runs to pass the runners safely which we did with care and everyone seemed very happy.
The Tower is undergoing some sort of renovation and the tea and cake has moved into a shed in front of the tower. Service was the same! Refreshed and energised we headed for Personal Hygiene and then onto Moonbase/Chicken Wings before picking our way to Deliverance proper. Jone went, Karl went and given the bike I was one, I went as well. It still have the memories of my big off 2 years ago but after an initial grab of the brakes experience cut in and I released them and rolled down at speed to a safe exit.
Rather than take Wagledance we headed down Regurgitator, wrong in so many ways but quite right in others. Jon was thinking he might have a crack at Summer Lightning to Westcott so we let him got while I headed down to gets some more photos.
Trails were pretty much dry and there was speed to be had for those who wanted it. Under the trees there was the normal mud though and we arrived at Jon about 10 minutes later having taken a much steadier pace down.
Some times I make questionable choices as trail leader and maybe McPherson's climb was one of them. Lloyd didn't protest loud enough for his veto to come into play and I'm not sure Jon and Andrew had ever done it. Karl just approached it with his normal level of enthusiasm. And I cleared it.
Jon fancied a crack at Dearly Beloved but soon regretted it as Lloyd stuck with him and had to use his brakes as Jon failed to find his normal speed or maybe the 29er just rolled better!
Riders began to split as Paul had already left us near Dorking, Lloyd and Jon split off at Poledon, leaving just myself, Andrew and Karl to pull into the car park. Some 23 miles of riding and only a little, post Mayhem, tiredness!