Ride report: Sunday 20 January – snow ride to Newlands
If you're a mountain biker in the UK, and it snows, you know the drill. You absolutely have to make all reasonable efforts to get out for a snow ride.
It's the law.
This doesn't necessarily make it easy to get to the start point though. Along with other moles leaving their burrow this morning there was a lot of sheet ice to contend with on untreated side roads. I first discovered this as I reached the end of my road and realised I had no way to make the turn and stay upright.
Instead, I tiptoed forward across the blue ice and up the kerb opposite, making my way from there, via the grass verge for a half mile or so, to a road in better condition. I met DaveC on the way and together we climbed up through quiet streets towards Bocketts Farm, where I managed to dump myself on the deck on more ice!
At the car park were some unfamiliar faces, with Tim and Keith joining us since their roadie preference was curtailed by the weather. There was also Andy, Tony, Barrie, Lloyd, DaveW and James. Alas, no sign of Kev who is (sensibly) hibernating in his mole hole.
Our initial plan was to work our way to Newlands via a circumspect route to avoid the Admirals Track Hawthorn gauntlet, so we headed into the Hazels and skidded and slipped our way down toward Roaring House Farm and from there along the bottom edge of the big field toward Crabtree Lane.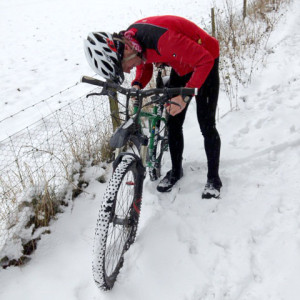 It was hard going, the fresh snow was deep and draggy while anything compacted was pretty slippery. 'Mechanical' Barrie interrupted our efforts within a mile of setting off with the unusual event of his pedal falling off! Which is something I don't think I've seen before, but at least his chain seemed fine this week!
Our tentative efforts resumed with us all feeling our way for grip. Things improved as we climbed up Crabtree and I was glad I'd taken the opportunity to let some air out of my tyres while Barrie sorted his pedal. We soon settled into a comfortable pace, much slower than usual but enough to keep us warm without overheating.
At the end of Crabtree we turned toward Polesdon and took the 'singletrack' along to where the trail from Wiggly Wood joins up for the descent. The trail was actually quite rideable if you we ready for unexpected slides from the back, front or both ends depending on how much effort you were putting in. I really enjoy picking a line along a trail like this and felt fine.
The trouble with this kind of riding is that when you go off line and stall you have to put a foot down and soon we were all suffering from cleats and pedals clogged with ice and snow but progress continued across to Polesdon and onto the climb past Tanners Hatch to Ranmore. This was quite a slog.
The singlespeeders suffered when they stalled on the steep slope as they then found it hard to balance grip to get going again but I managed to find a clear line thanks to gears and the full suspension set up I was running.
Up on Ranmore the road was reasonably clear. We debated about running all the way along to pick up the Drovers Road but opted in the end to give Badger Run and Collarbone a go. This turned out to be a good choice as more slow, steady riding ensued trying to find the optimal line along the heavily snow-covered trails. There was nothing predictable and it was nothing like our usual riding but great fun to be out. So far I don't think we'd seen anyone else either walking or riding…
After Collarbone was threaded through Trouble in Paradise and then along toward the White Down road. But mickey taking of Tony and the benefits of all that grip that 29er riders proudly claim for themselves ended rather abruptly when I gave him the hurry-up and promptly lost my line and slithered to a standstill, at which point I was passing my most of the rest of the chasing pack!
By the time we reached the Abba Zabba area (no, of course we didn't try it today!), Tim decided that his time was up and headed off toward home while the remaining Nine riders continued along the North Downs way. This was excellent fun but very slow going as we had frozen ruts, deep pools of ice and thick snow to contend with, so it was every man for himself.
The fun finally ended after what seemed a long time of battling the trail when we all congregated back on the Drovers Road.
What a contrast that was! Instead of the sense the trail was against you we were suddenly faced with a wide track with snow that sufficiently compacted to provide grip without being treacherous. The snow was really excellent today, giving up a satisfying squeak under compression; this hint of grip was picked up by us all subconsciously and speeds increased as confidence grew. It's amazing how you can almost sense grip sometimes and it can change quickly in these conditions.
Of course we were never flat out – grip was always less than normal and the light was pretty flat, making it hard to see trail contours. A biting wind didn't hrlp, blowing small flinty flakes of snow into our faces as we headed to Newlands. But we made pretty good time, helped by a general downward path to our destination.
I rewarded myself with a bacon and egg roll and a cup of coffee at Newlands in near whiteout conditions (there was no view today). It was strangely was devoid of the usual plethora of high powered motor bikes which meant no real queuing for food although a few other riders arrived while we were there, including Clive and some Cycleworks riders. My only error was to remove my gloves which let the moisture in them freeze and kept my hands cold for several miles of the return journey.
Retracing our tyre tracks we headed back along the North Downs Way right to the White Down road this time, with no-one particularly keen to attempt the painful progress through the woods again (besides we were running out of time for that). Instead, we slipped and slid onto the Ranmore Road and followed it along to the start of Hogden Lane.
Ah, Hogden Lane. It all started rather well as I followed Dave down the track. It was smoothly covered with a nice layer of snow that felt just fine. Right up until we reached the cottage being renovated, at which five of us, myself included, were summarily upended as we suddenly found the track to be – mainly – sheet ice under a covering of newly fallen snow.
Ouch! I was lucky enough to skitter into the bank, but Andy fell hard along with Keith and Lloyd and DaveC hitting the deck. Ok, it was funny to see so many bikes drop but it hurt! A few yards further down the track, Keith and Lloyd both made solid contact with the ice again, Lloyd hurting his delicate shoulders and Keith whacking his head.
As the others drifted away from us I hung back to make sure both Keith and Lloyd were able to continue – you never know and being stuck somewhere in the cold is not a good option. So we slowly picked our way along and then up toward Polesdon, past a huge field with loads of people sledging.
Finally back at Polesdon, again we took things easy. Keith peeled off for home and Dave and James shot down the tarmac toward the Admirals Track while Lloyd and I took to the bridlepath not wanting to risk the soft ice and slush on the road. After Lloyd headed for home I chased down James and Dave while carefully negotiating the hawthorns and we were soon back at the car park, soon to be joined by the rest of the pack who had turned off earlier and headed back via the A246.
The final part of the ride was yet again a very wary mince down to the 'safety' of the Lower Road as the side roads remained treacherous; I had no faith in the surface at all. By the time I arrived home – in one piece! – it was snowing again and has continued to snow for much of the afternoon. I didn't care, we'd had a good ride today of approximately 24 miles, so an afternoon on the couch was perfect!