Ride report: Sunday 21 April – Ranmore riding
The man you see here wasn't the same man at the end of the Abba Zabba complex as he was at the start. What may at first glance be a shot of Dandy stretching his hamstrings was actually a forlorn attempt to locate his testicles, which were the recipient of sudden and unforeseen trauma.
And the day had started so well…
This weekend turned out to be a gem for mountain biking. Finally, a hint that spring might bless us with some sunshine and – dare I say it – dusty trails to boot. Our numbers were swelled by one this week, as we welcomed Pat from Ison Distribution to our ride group to show him some of our local trails. He's the guy who recently loaned us the Salsa Horsethief for review, which you'll be able to read more about this week.
Today, Pat was rocking a rare Salsa El Mariachi 29er hardtail in titanium. It's certainly not an everyday occurrence sighting of one of those. To keep him company we had Dandy, Kev, DaveC, Ray AndyK, Big Al, JonH and Lee which made up a 10 strong group, with a plan to sample some of the trails this side of Ranmore rather than the usual Leith/Holmbury/Pitch honeypot.
Significantly, this was also my first local Sunday ride in around two months and since my bikes are currently in a state requiring a rub down from the money fairy, Dave loaned me his Orange Gyro 29er for a try, in 1×10 guise.
Initial impressions were of a bike with a short reach and Dave's trademark 'weird handlebars', this time carbon Carnegie bars in white. After readjusting the saddle height to fit me the effective top tube length improved somewhat but it would have probably been worthwhile spending a bit of time moving the saddle back too. But we didn't, so I just got on with it.
Setting off down the Admiral's track, all was fine until we reached the large puddles which turned out to be surprisingly, hub threateningly deep and placed there purely to remind you that we have actually suffered from the wettest winter since last June. My Orange still hasn't recovered from that Mayhem induced fiasco.
What I quickly discovered with the Gyro was a reluctance to go up hills. Some might say it was the rider who was reluctant, and as ever there may be some truth in that suggestion, but the slightly cramped cockpit didn't exactly encourage me to put my back into it. The haul up to Polesdon felt just that.
Once there, Big Al and Jon shot off to trade speed records on the Yew Trees dip while I was happy to sit near the back. To my surprise the Gyro actually felt rather supple and seemed to like a bit of air time as it built speed downhill but all to soon I was reduced to grinding up the other side, accompanied by the sound of a dry chain and a bit of rub from the chain guide in the lower gears.
So it was a winch job all the way up to Ranmore with the sun quickly taking the edge off the cool temperatures of early morning and warming things up nicely. The trails at least seemed to have dried dramatically in the past few weeks and once at Ranmore we turned toward Badger Run and Collarbone to find a fast, grippy surface. Lots of road bikes were out today – we spent plenty of time dodging them today – as it was the weekend of the Surrey Hills Cyclone sportive – whenever we went near the tarmac.
After Collarbone you can probably work out for yourselves where we went as our own North Downs classic unfolded. Through Trouble in Paradise (with Lee and Dandy both successfully tackling the big log), then on toward Sweet and Short. This was another chance for me to stop the slogging and let the Gyro go a bit and once again it felt very nice, with a very smooth flow over the roots. You could sense classic 29er advantages coming into play but also it has to be said Dave's bikes are generally in a very good state of repair, unlike mine.
So pretty soon we found ourselves at the top of Abba Zabba. Al, Jon and Dandy all shot down and round the tree, Dandy carrying a surfeit of exuberance round the turn, while the rest of us took the chicken run. I was leading and felt quite confident letting the bike have it's head, soon finding a nice flow around and over the obstacles.
This included tracking across the footpath and heading down Blind Terror for the first time in a while, trusting to the Gyro's tracking abilities to keep me out of trouble. A quick winch up a few yards and then it was down the big roll in to road, again everything felt great and I was starting to enjoy myself.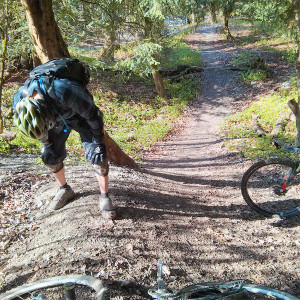 Crossing the road was where Dandy's troubles occurred. The group split with some heading down the big Numbskull/Blind Terror(?) drop while I lead some of us round the edge. I like the flow this gives down through the woods to the jump at the bottom but as I neared the last turn I could hear a commotion that included – to be fair – some laughter, and a fair bit of groaning and gasping.
Reluctantly I pulled to a halt (I really had a nice flow going!) to find DaveC upside down with his bike on top of him and Dandy bent over double.
When finally either of them could speak we discovered that Dandy had ridden an uncomfortable distance with his Jackson Pollocks draped over his MudX-clad rear wheel, contributing to a sudden and unexpectedly vigorous sensation in (and subsequent rise in temperature of) his nether regions.
This 'reverse brazilian' (whereby the area outside the nobbly tyre zone is left undisturbed) had culminated in an equally abrupt dismount leaving Dandy gasping.
Dave, who had the good fortune of a ringside seat, had pulled his bike to a halt and then made the mistake of trying to put his foot down on the lower part of the slope, promptly toppling down the hill. This shameless act of scene stealing had no effect on Dandy, who was still searching for his testicles in the undergrowth!
Of course, we were all very sympathetic.
When finally capable of forward motion, we set off for the return leg back down the valley toward Dorking, passing Lloyd who was making solo progress in the opposite direction toward Newlands Corner as he pursued his post shoulder injury recovery.
Once again, the Hills part of the Surrey Hills name kicked in, and another slog ensued dragging ourselves back up the valley. Perhaps I'm exaggerating, perhaps it's just the effects of riding a bike that doesn't quite fit. Whatever it was, it felt rather warm climbing up High Med to the Ranmore Road and then on to Ranmore Church.
Our first port of call up here was Golden Nugget, starting to come into it's own now that it's drying a bit. There's still a few damp off camber bits to deal with but it's much better and once again the Gyro felt very surefooted as I tracked down Dave in front of me. The final part of the trail was a great opportunity for a bit of air time off the little dips that pepper the tail end.
That exuberance was rapidly checked by the prospect of a long climb back up to Ranmore for And Then There Were Three aka 'the full (bodied) Red, White and Rose'. That long climb up was exhausting and in no way recommended. I think it was only the prospect of more dry trails and the sunshine that allowed the majority of us to be persuaded to ride back up.
It was worth it though as I had my best ever run down ATTWT, really nailing it as my increasing confidence in the Gyro's handling grew. It felt like you could really push it into turns and the back would look after itself. Despite carrying too much speed into the second section which ended up with a clip of the bars on the inside tree and a momentary dab or two to keep my balance it was a hoot from top to bottom.
As is ever the case on a mole ride, cake beckoned. Unfortunately it was at the top of the biggest hill in Surrey, so once again we were back to climbing, up the long flinty bridlepath to Box Hill. It seemed to take forever and by now I had no real punch in my legs so it was a granny gear climb up, with Ray scampering to the top, then down to keep us company as he took the opportunity of further training for his Stelvio climb this summer. Sounds like a real challenge and is on my list of 'things to do', but not in my present condition!
Refueling at the massively popular Box Hill tea rooms – swelled by hundreds of roadies today 'fresh' from the sportive efforts – involved one of their legendary date slices which must have a protected recipe or something as I never see them elsewhere, which is a shame as they are perfect for cyclists. It was the chance to stop and chat for a bit, during which we met Jem and Al who were out on a more leisurely ride.
Our riding was mainly done, with China Pig the one remaining attraction as we turned for home. This has been quietly sabotaged – or at least an attempt at sabotage has been made – by someone who obviously feels strongly enough to put numerous logs and bits of trail debris across the path to hinder progress. It's… frustrating… to see this kind of them-and-us attitude shown by someone who feels they are right and everyone else is wrong.
The good news is though that there's plenty of stuff to hop over! China Pig was in peachy condition and once again the Gyro was flying… I'm not even going to say that Kev held me up as it doesn't seem worth mentioning in the grand scheme of things of a terrific fun blast down to Juniper Bottom. One final point about the equipment on Dave's Gyro was the older style-XT brakes which by now I was really getting used to. They had terrific feel and I found I could brake very strongly indeed when I had to with little fade. Spectacularly competent I'd say!
By the time we'd made it back to Norbury Park a few of us were startig to wilt while the older ones seemed to think they were just warming up! Such is the way with cycling. The last big climb over the hill had Pat suffering as the short and sharp nature of Surrey Hills riding (and a 5:30am start) took it's toll but in truth none of us really flew up the hill.
It was a means to an end, the end being Infestation which I had the very good fortune to ride down with no-one in front of me to… confuse my lines… The Gyro was stonking! knowing it was my last bit of fun on it I let it go and found it drifting beautifully on some turns, floating over really nasty rooty sections and making sharp direction changes when necessary. I loved that!
Our eventual mileage back to Dave's place was just over 25 miles and to be honest, that was plenty for me. Great ride, and let's hope Dandy has had some help with the embrocation this evening- he's had a rough day!