Ride report: Sunday 23 October – hold the fat
Surrey Weather. Well, South East weather at least as the long autumn of 2011 continues and with it another large group of riders turned out for Sunday's ride. With parts of the country enduring a miserable time weather-wise, you really have to make the best of what could be the last spell of dry weather for a while.
I think we've all been quietly thinking this for several weeks now but each time the weekend arrives and we've been pleasantly surprised to find another Sunday without rain. This means my Five continues to wear it's schizoid boots with a MudX on the front and a 2.25 Maxxis Aspen on the rear. It seems to work for now.
The first problem with the ride was remembering who the hell was on it with 16 riders setting out from Bockett's Farm. I think the group was DaveC, Colin, Tony, Kev, StevenD, PaulM, MarkW, Adam, Amanda, D'Andy, Ian, Tim, Al, Karl and Lloyd (phew!).
We started off steadily along the Admiral's Track with the morning feeling quite cool to start with. I was relieved to finally be riding a Five that didn't make any noise thanks to Dave sorting me out with a spare bottom bracket which had the added benefit of being anodised red to suit my colour scheme. Just a white saddle and possibly white grips and my patriotic vision will be complete I think.
It was good to catch up with Colin and Ian as we made our way up toward Polesdon, the group was so large I don't think I got to speak to everyone until we reached Ranmore! I was in no particular rush as I'm recovering from a mild head cold and was happy to leave it to others to sort the route.
Rather than charge down Yew Trees DaveC voted for Pamplona, so it was off over to the top section of Hogden Lane before hanging left after the recent and climbin up to pick up the Ranmore climb from there. The Five seemed to have plenty of grip on the high cambers of the descent although I don't entirely trust that Aspen on the rear. But it was fine.
At Ranmore we turned right for our familiar ride along Badger Run and Collarbone which remain mercifully mud-free, allowing us to make steady progress. With such a large group it might of been tricky keeping the flow going but it seemed to be rolling along fine. No-one was much in the mood for the big tree on Trouble in Paradise as we wound our way through the trees and on toward Abba Zabba but a good number of riders gave that a go, with Colin nearly overshooting the turn and Karl stalling at the tree and finding out just how steep it is!
I took the chicken run (as always it seems) but then was more than happy to find the trail through there and on toward Blind Terror II to be nicely unpopulated which meant a clear run in and nicely controlled plunge into the bowl without any hesitation. These beech woods give a fantastic light at this time of year with the sunlight bouncing up off the fallen leaves and we soon tackled the big roll down to the road and crossed over for the next section.
I think a few carried straight on down the big Blind Terror(?) roll in while I led the others round to the right and back onto the main trail before the final drop to the log step at the bottom. This had been dug out last time I was there but the upslope has now been restored and actually seems to make the step much more predictable, whereas in the past it was almost a jump.
While the bulk of the group continued on to Abinger Roughs, Colin and Tony turned for home, Colin with a prior appointment, Tony out of caution for his knee which is only three weeks new since his arthroscopic interference. I thought it had been longer and am very impressed he's back riding so soon.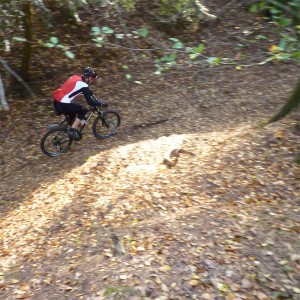 So we meandered across the Roughs and were soon at Abinger and from there, Shere where we stopped briefly for StevenD's broken chain which was fixed without too much drama. Here the route drited away from our classic path, heading out from Shere and Albury Heath across the Little London road and railway.
We took Ponds Lane down to Farley Green along stretches of tarmac that had me thinking what a nice bit of road riding there is round this part of Surrey too, before crossing Blackheath with the climb to St. Marthas Hill in our sights.
Lloyd was unlucky enough to (we think) get a stick in his front wheel/fork which threw him violently over the handlebars at – luckily – walking pace in an almost carbon copy of my Swinley accident a couple of years ago. That was the point I felt my collarbone had mended as I went straight over and landed on it without damage thank god! Lloyd too was unhurt which is more than can be said for his Satmap… It's quite a shock to the system though I must say.
There were loads of people out walking and running on St. Marthas, all seemed cheerful enough and I was pretty happy myself, passing many very attractive 20-something girls out off-road running with a club or something. Marvellous!
After the painful sandy grind up Martha's we regrouped and then headed off toward White Lane, at one point I leapt off a bank and suddenly found myself uncharacteristically some distance off the ground. Which was nice. Sand, dust and debris is the order of the day round here, so different from the Newlands Ridge with is clay, chalk and flint surfaces.
The climb up White Lane was made interesting – at least for Amanda – when she dropped down to the steps from the path to the tarmac to cross the road just as a casual weekend rider was coming down the road at speed. A near miss which might have been nasty – I think the rider got the shock of his life! Sorry to the guy if he's reading this!
A final grind and then we were in the car park at Newlands where the Surrey effect was once more in evidence. First, a big butch biker trundled along behind us to the cake stop with Cyndi Lauper's 'True Colours' loudly playing incongruously on his stereo, then MarkW stepped up to the counter to order a greasy burger and a LATTE, then Ian minced up and asked for a bacon roll WITHOUT THE FAT!! Oh the hilarity. I had an Eccles cake but insisted on a filter coffee and God knows what that says about me…
The return leg was a steady tramp along the North Downs Way back to Ranmore with plenty of conversation going on all through the group as everyone was in relaxed mode now that most of the work had been done. I felt pretty good and found the pace very much to my liking as we retraced our steps along Collarbone.
At one point StevenD took a wrong turn (well he's not from round here) and Dave chased him down. We've been trialling some (cough) radios recently and I managed to stay in touch with Dave despite thick tree cover so we could arrange where to rendezvous without a need to interrupt the ride. They seem to be a good solution to an age-old problem so far.
Coming down to Yew Trees we met Dave's other half Cathie out on a late ride herself (kudos) and after a brief chat we pressed on to finish the ride. All in all, about 28 miles some of it easy, some of it a bit harder but all of it FUN! Great to see everyone as always but in particular Colin, Tony, StevenD – who was down from Marlow I think – and Tim who had exchanged his road bike for an mtb for change!