Ride report: Sunday 24 July – Reigate XC fun
Today saw us heading toward Reigate and Gatton Park, from the outset an XC kind of run. Despite the billing though, we managed to squeeze in a decent portion of singletrack fun to make it worth our while, thanks in part to Phil from Muddy Ground.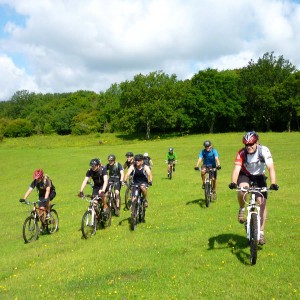 The idea was partly planned to cater for a returning Jem who has been given the all-clear to resume gentle exercise, which provided him with the perfect excuse to meet us at Headley. In part though, we just hadn't been over to Reigate for a while. In fact until this week I don't think I'd ridden to Reigate off-road for about six months, although as luck would have it, this would be my third ride along this route in four days thanks to a bit of commuting.
So at Bocketts we had Ray, KevS, MarkyMark, Tony, DaveC, Rob, Karl, Lord On-One, Tommo and Newboy (Lee). We left the car park and pronptly disapeared into the track that parallels the road down to the farm, a new one for me that's brisk and unchallenging but certainly beats rolling down on tarmac.
After crossing the road it was notable that DaveC was setting a quick pace on his 29er singlespeed before pulling up sharply with a puncture at the Thorncroft vinyard. Such faffage and some pumpage got us underway again but by the time we reached Michael Cain's place it was causing trouble again. Leaving Ray and Dave to faff we headed on a few hundred yards and waited for them at the foot of Alsation. And waited.
After an eternity during which whole civilisations grew up only subsequently to perish in a fiery apocalypse, Dave and Ray were underway again. I blame it on the flints.
So with cold legs but warm backs in part thanks to that fiery apocalypse but more pertinently due to the welcome appearance of a hot sun after days of June rain, we started on Alsation. It's overgrown now, with parts of it little more than a green tunnel and after three ascents in four days my singlespeed legs we feeling it but up we went.
I don't think Tommo's 16kg Norco was doing him any favours but we kept going at the top and I led into Life on Mars. Even after all the recent rain the trails were only muddy in places with usually plenty of grip. It's quite a climb uphill over several fallen logs but I slogged on and after reaching Tyrells Wood we carried on toward Headley. After those few singlespeed rides recently my legs may have felt tired but the one gear effort was finally coming to me.
On reaching the car park at Headley we bumped into first my colleague Kimberly and her riding friends but also Phil from Muddy Ground, as well as Jem who we were planning to meet. For a while Headley was pretty busy!
After a bit of chat we were underway again, heading toward the North Downs Way, dodging over grown bridlepaths and horses. Tommo had decided to bail out due to the effort of lugging a heavy bike around heavy trails but the rest of us continued under Phil's guidance.
Our standard route to Colley Hill this got hijacked by Phil showing us what could have been a trail if you were feeling kind but more likely was just an experimental wander through a bracken field. I think Phil was taking the locals-only thing a bit far personally (only joking Phil!) but it did provide a bit of variety from what was proving to be an increasingly hot dash across country.
At Colley Hill we meandered across the ridge, taking in the best of the views and avoiding – as much as possible – the worst of the cow pats. After all the recent rain the air was cystal clear and you could easily see across to the South Downs without much effort. A beautiful view.
On reaching the Gatton tea rooms Phil offered to show us more singletrack through the park which gave us all a chance to earn our tea-stop. Jem decided to save his energy while the rest of us disappeared after Phil along some cracking wooded singletrack. I've always guessed there must be stuff in these woods but nt being local I've never had time to find it. Some lovely meandering trails seemed to suit the singlespeed rather well. Even the eventual climb back up to the tea-room didn't seem too bad and certainly better than the sanitised climb I've been doing earlier this week.
Heading back to Headley, we picked up more of Phil's singletrack finds through Margery Wood, heading toward the gold course where the Senior Open was in full swing (boom-tish!). With no route across the gold course I took the pack round the edge along a nice twisting bit of doubletrack that narrowed into singletrack as it skirted round toward the club house. We were on public trails and off the course but I still don't think the golfers we saw were particularly impressed to see our mole-pack of ten or more riders hooning along!
Crossing the road it wasn't long before we were rolling into Walton on the Hill, past the Blue Ball pub and the pond and then across the road and off toward the fast descent toward Headley. It takes you down and under the M25 where the climb to Headley starts to dig in. Just keep spinning or if you're singlespeeding, keep grinding.
At the Headley road we parted from Jem and carrie don, retracing our steps to Tyrells Wood and back along to take in Life on Mars in my favoured direction. This leads soon after to Alsation which needs a bit of care at the moment as it's so overgrown.
By the time we'd got back to the Bockett's car park I think we were all feeling that for an XC ride we'd managed to squeeze in plenty of fun, even without Secret Singletrack or Gear Selecta which were on the cards for the Headley section. Yes, it was slow at times with the need for faffing but on the whole it was a ride with plenty of work to satisfy me. About 23-23 miles from the car park I reckon, nearly 26 for me door-to-door.
A really nice way to spend a summer Sunday morning.