Ride report: Sunday 24 May – Bookham to Gatton Park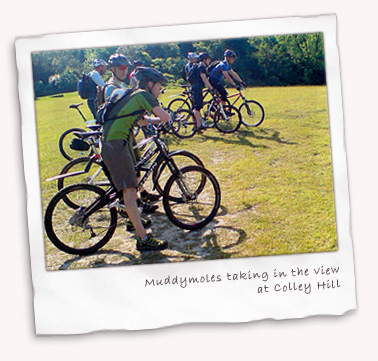 What a day for a ride! With temperatures topping 24° by the afternoon it was clear from early in the day that conditions were perfect for mountain biking. In fact, for the first time in ages I left the house without a long sleeve top or base layer, knowing that even during our usual cake stop it wasn't going to get chilly. So it proved.
Of course, the downside with such weather is that everyone else is out on the hills too; we encountered numerous walkers and plenty of horse riders, some of whom were more pleased than others to see us. That might just have been our choice of route though, Bookham to Gatton Park is classic horse riding territory. Had we been over Leith way I doubt we'd have had the same issues.
But Gatton was our target for a couple of reasons. First, it's a decent leg stretcher and lets your feel you've actually travelled somewhere rather than just gone round in a big circle. Second, with Newlands having been covered last week and Leith just that bit too far for some of us who had engagements in the afternoon, Gatton seemed the ideal place to go.
So ten of us departed Bockett's just a little after 8:30 – that's Colin, Lee, John, Keith, Jez, AndyC, Barry, Darryl, DaveW and myself heading toward Leatherhead. Within a mile it was obvious the trails were in fine condition with the biggest issue being dust kicked up by the group for those at the rear.
AndyC was out on his borrowed Marin Mount Vision which looked distinctly different from stuff he's been riding recently; much slacker angles on the frame for a start compared to his old Whyte PRST-1 and Univega plus the added advantage of efficient brakes for a change. Barry too was out on something different, and something of a bargain – a Trek EX 7 of 2007 vintage which really did look as though it had hardly been used. £300 on eBay, there's no arguing with that. With Rock Shox Rebas up front, XT kit and Hayes brakes you could argue the parts were worth more than that for a start.
With any Gatton ride though, the toughest part is at the start as you have to haul yourself up Alsation. It's a good chance to check out the level of vegetation there though for the return run later on, which is rapidly increasing – in a few weeks it'll be impassable for the summer I think.
Once up Alsation there's still a steady upward trend to get to Nower Wood and then across to Headley where we met some of the grumpiest horse riders. I have some sympathy, mountain bikers can arrive rather suddenly which can startle horses but ultimately we all have to share the bridleways. Being rude is not helpful and is not likely to change bikers behaviour – not that we're bad at all, generally we're responsible and get on well with most walkers and riders; it's just a small minority who prefer to set boundaries.
So across to the North Downs Way then, setting a pretty fast pace on the bone dry trails. It's not technical riding in this neck of the woods, just sweetly flowing singletrack that gives unexpected views across the Weald to the South Downs with lots of sharp down and ups to keep you working. The singlespeed experiment continues to go well with 32:18 for me being an ideal gear in these conditions, allowing me to set a good average pace.
Eventually we came out on Colley Hill for a bit of a breather and to take in the view while Jez peeled off to meet an appointment with a punt in Oxford. Not a bad way to spend the afternoon to my mind. We pressed on toward Gatton after I'd reassured those who were unfamiliar with this side of the Downs that there was a tea shop involved! We rolled through the big depression (perhaps bombhole is too kind to it) with DaveW being the only one to try launching the downward step half way down it. I think I was too much in XC mode to think about that today!
However, coming down off Colley Hill I had to quickly reset my thoughts because the chalk gulleys seemed much more extreme than I remembered them earlier in the year. Even dry and dusty I was finding I was carrying a bit too much speed into them and nearly caught myself out but got away with it. Spitting out onto Reigate Hill we then crossed over the busy road and took the next right into Gatton territory.
Having come all this way it would be useful to find out a few more trails over here. We don't really know it that well but I'm sure there's some good stuff around here. As it is, the bridlepaths contour nicely along the step hillsides, crossing Wray Lane before taking us round the perimeter of the Park and then up to the tea rooms. Spinning along in the warm sunshine felt 'just right' but being able to sit down with a tea cake and a coffee seemed like a decent reward for our first 13 miles or so.
Our next target from here was to cross the Reigate Road via the elevated footbridge before arriving once more up on Colley Hill near the Ingliss Memorial. Rather than retrace our entire route back we cut across to Walton Heath and crossed the golf course there, keeping a sharp eye out for flying golf balls! The last time I crossed this was with Lee in the snow, never quite knowing if the puddles were going to crack or stay iced up. We had a few lairy moments but today couldn't have been different as the temperatures climbed toward midday.
Still the high speed spin continued, I really felt in the groove and I think Colin was feeling the same way too. It really was a ride that suited a singlespeed bike. When we reached Headley we picked up secret singletrack and I really ripped down there. I could feel the back end biting and could really force the bike through the turns, chasing DaveW who was in his element. Colin following not far behind commented on the way my back wheel was spraying up the dead bracken which was very satisfying.
By now we were back in familiar territory heading up to Nower Wood before speeding down past the golf club. It was time to start saying goodbye to riders, DaveW and Barry picking up Stane Street to head back toward Epsom while the rest of us waited for Keith to sort out a puncture. Amazingly that was the first of the day, not bad considering the number of riders and the distance we'd covered.
When Keith was ready we took off at high speed down Alsation, passing an elderly gentleman making his way down on foot. At the bottom some minutes passed without AndyC or Keith arriving so John headed back to see what was up. After a few more minutes we started to get increasingly worried and reclimbed the lower third of the trail to be met by some horse riders who assured us all was well. For a minute I was fearing the worst.
So we waited, with John, Keith and Andy just about visible a hundred yards up the trail until we heard a small explosion. It sounded like Keith had perhaps fallen on a grenade but turned out to be an exploding inner tube. How he must have laughed! Thank God it was one of those latex/slime filled jobbies…
Assured that the three had the situation under control we pushed on as time ticked by – there was only a couple of miles left to go anyway. By the time we'd dropped off Colin and Darryl it was just Lee and myself that eventually returned to Bockett's car park; no doubt John, Keith and Andy were not that far behind.
So a perfect ride excluding some minor puncture trouble. 25 miles notched up, a high pace and the perfect excuse to kick back in the afternoon. I had a family barbeque to attend and felt I'd earned my beer sitting in the sunshine yesterday afternoon. More of the same please!