Ride report: Sunday 24 September – all in the wrist

Today was a relatively gentle rideout on account of MarkC's dodgy wrist.
Well I say dodgy. But actually it didn't appear to trouble him too badly on his first Moles ride since an incident on Wire in the Blood a good few weeks ago. The resulting stack led to MarkC missing most of the second half of summer with a fractured wrist and injured shoulder. Fittingly, today was the first day of autumn.
In recognition of Mark's recovery, we planned on an easy 'gravel' ride though JR, Mark and myself all turned up with our full suspension bikes. Gravel can be whatever you want it to be!
Our route was classic XC, out to Epsom Downs via the back of Ashtead, then up to Headley and… somewhere after that. We weren't quite sure but knew we'd be able to cobble something together.
First, some drama in Leatherhead as a large house had caught fire the day before.
As we climbed up Downs Lane the road still had several hundred meters of hose pipe across it. It turned out that Downside Manor – in the process of development – had managed to catch fire and burn to the ground. This is… unusual… for an occupied house (I'm pleased to say) but is not unheard of when large scale renovations occur. For instance, the old cinema in Redhill with its listed facade that fell down during redevelopment (whoopsie!). It's a very risky business.
We detoured up to the driveway of Downside Manor, more out of curiosity than anything else. I've never been up there before and assumed the house I could see through the gate was the full extent of things, but I've clearly not been paying attention.
Backtracking after being politely blocked by security (who managed to suggest the blaze was just a small bonfire), we climbed up to Windmill Drive on our usual route up to the Beaverbrook roundabout at the top of Leatherhead.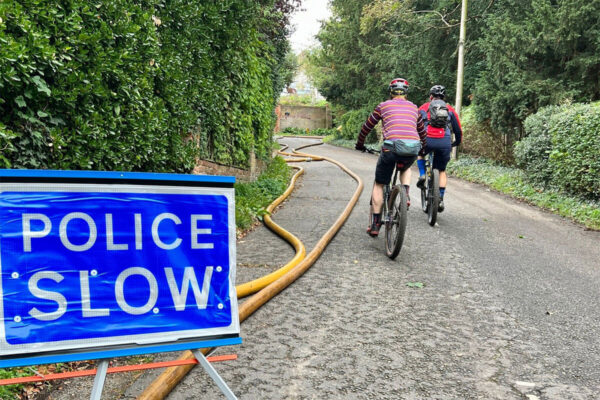 After that, it was a nice zip through the trees past the massive jumps by the A24, then a climb up Ermyn Way and onto bridlepath to the back of Ashtead. The climbs from the Mole at Leatherhead are quite unrelenting even though there is variation in route and the surface you are riding over.
We soon spotted the first of the days real gravelleurs (i.e. NOT on mountain bikes) who had become separated from his pack. Its notable that gravel riding seems to appeal to a wider cross section of cyclists and often includes men and women of all ages. That's not something you see with MTBs.
Our own gravel adventures carried us down to Langley Vale and Mark's wrist seemed to be holding up fine. Despite overcast skies the weather was perfect of riding, about 18° with a strong wind at times. But it was never cold and the trails were generally fine.
From the back of the race course it is a long climb up Ebbisham Lane but we made steady progress. So much so that we soon realised we were going to be at Headley rather too early to think about stopping for coffee.
Instead, we continued on across the heath to Nower Wood, our wheels still very much planted in XC territory. Mark's wrist seemed to be holding up well though, so we couldn't resist throwing in some relatively gentle singletrack. First, Lloyd's Left Leg which was running well. I was concentrating on flow but didn't feel I could go a lot faster on the damp chalk and clay surface with my summer tyres.
This, I think, is more to do with my bike than with the Hutchinsons. My main pivot bearings are showing noticeable play which doesn't help with my gear shifting or the bike's handling. The shock itself is like a pogo stick and not really up to the task either – its too pattery over staccato surfaces yet will bottom out if I run it with lower air pressure. It really needs a better replacement, but I think I will play around with bottomless tokens first.
After Lloyd's Left Leg the obvious choice was Pot Noodle. Again, I could feel my shock was over pressured and rather poor at handling so many tree roots even though I was running my tyres at the same pressure I've used all summer. I have recently added air to the shock to compensate for pedal strikes but I've definitely gone too far. With that, plus a damper surface I don't feel the bike is working with me at this point. At least Mark didn't suffer any adverse difficulty with his wrist, Pot Noodle would have been a good test for that.
We decided to try a new coffee stop, 51 Degrees North on the A24 at Mickleham. It was pretty nice, one might say a little too chi-chi for the likes of us although the staff seemed happy enough. Coffee was good, and Mark and I had a tasty sausage roll each. In my case, driven partly by seeing relatively small portions of cake – Elliot beware!
There remained sufficient enthusiasm for a few more miles yet. So, despite being relatively close to home for all three of us, we decided to follow the trail over the railway tunnel in Norbury Park and then along the bridlepath to the top of Crabtree Lane. From there, down to Westhumble, then along to the Chapel on Chapel Lane and another climb all the way up through Denbies. You could tell we had JR on this ride!
From Ranmore we headed to Ricin Beans and I confirmed my thoughts of my shock. I just couldn't get the bike to handle over rough roots and damp loam and a couple of times I felt the bike slide before the side knobs on the tyres engaged. At times I felt I just didn't have the braking grip I've come to expect. But I still enjoyed myself.
A ride with JR is not complete without finishing on a climb and today was no exception as we winched up Connicut Lane. My legs were certainly feeling it after 2300ft of climbing. We finished our ride at the back of Bookham as the three of us headed in different directions home.
Overall, I feel I've seen what needs to happen to the Bird. New bearings for a start, then – most likely – a new shock after a preliminary visit to Gordon's workshop/tea vending facility to see if taking out tokens might help short term. Plan B is to get my Pace out instead!
Great to see Mark out on the bike again, with no obvious effects to his wrist and in fact nice also to see JR. I've been a bit slack with weekend rides so I haven't actually seen JR for a while either!